When a company announces a recall, market withdrawal, or safety alert, we post the company's announcement as a public service. We do not endorse either the product or the company.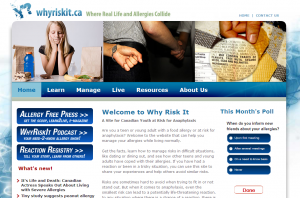 Website:
http://www.whyriskit.ca

Site Description:
A website to help pre-teens, teens and young adults manage their food allergies through real risks, real stories and real strategies. A site for teens, by teens through Anaphylaxis Canada.
Site Authors:
Anaphylaxis Canada
City/Location:
Toronto
State/Province:
Ontario
Country:
Canada