When a company announces a recall, market withdrawal, or safety alert, we post the company's announcement as a public service. We do not endorse either the product or the company.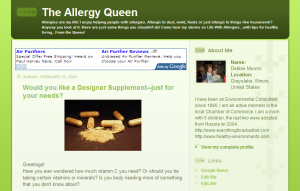 Website:
http://www.theallergyqueen.blogspot.com/

Site Description:
Allergies are my life! I enjoy helping people with allergies. Allergic to dust, mold, foods or just allergic to things like housework? Anyway you look at it, there are just some things you shouldn't do! Come hear my stories on Life With Allergies…with tips for healthy living…From the Queen!
Site Categories:
Site Supporters, Blogs
City/Location:
Grayslake
State/Province:
Illinois
Country:
USA