When a company announces a recall, market withdrawal, or safety alert, we post the company's announcement as a public service. We do not endorse either the product or the company.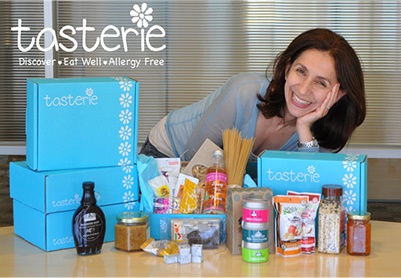 If you haven't already heard, there is a new food allergy friendly business in town.
Tasterie offers up physician approved allergy free, gluten free and vegan gift boxes.
Available as a subscription service, Tasterie gives individuals the opportunity to try a variety of safe foods shipped monthly in an adorable blue box.
We recently received a nut free Tasterie box and were delighted with the assortment of snack foods available. The contents were well packaged and wrapped in tissue. In addition, each item had a Tasterie label indicating that the product was nut free. There was a card listing what products were in the box as well as a recipe card featuring one of the box items.
Snack boxes cost $15 a month and the signature Tasterie box costs $20 a month. Both come with free shipping. The website is easy to navigate and ordering is simple.
If you are dealing with special dietary concerns and are looking for new foods, give Tasterie a try.
_____________________________________________________________________________
Best Allergy Sites makes every effort to test and review products fairly and transparently. The views expressed in this review are the personal views of Best Allergy Sites and these particular product reviews were not sponsored or paid for in any way by the manufacturers/publishers. However, some manufacturers/publishers may have given us the product for testing and review purposes.
_____________________________________________________________________________