When a company announces a recall, market withdrawal, or safety alert, we post the company's announcement as a public service. We do not endorse either the product or the company.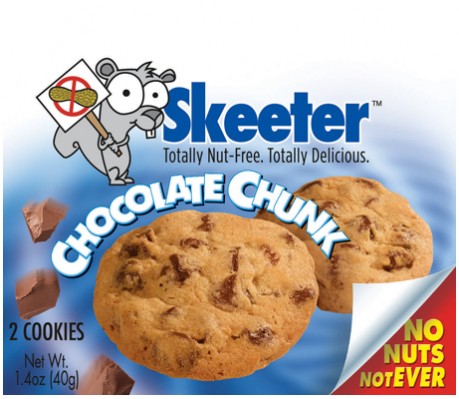 We recently wrote about Skeeter Snacks, new nut free snacks for individuals with nut allergies.
Now you can try these great snacks with our Skeeter Snacks Giveaway!
Skeeter Snacks offers three types of cookies that are both guaranteed peanut and tree nut free: Chocolate Chunk, Golden Oatmeal and Skeeterdoodle.
We were fortunate to be able to try all three varieties and they received rave reviews from my 8 and 9 year old taste testers.
Skeeter Snacks are available for purchase online through the Skeeter Snacks website and at retailers such as Shaw's and Shop-Rite.
We are also offering a chance for 2 lucky individuals (US residents only) to try these great cookies for free with our Skeeter Snacks Giveaway!
Share this post with your friends via the social networking icons to the left of this post or above, like us on Facebook at Best Allergy Sites and then comment on our Facebook page (beneath the post mentioning this giveaway) for a chance to win.
Two winners will be chosen at random and will receive one package of each Skeeter Snacks variety.
Winners will be announced on our Facebook page. Good luck!
_____________________________________________________________________________
Best Allergy Sites makes every effort to test and review products fairly and transparently. The views expressed in this review are the personal views of Best Allergy Sites and these particular product reviews were not sponsored or paid for in any way by the manufacturers/publishers. However, some manufacturers/publishers may have given us the product for testing and review purposes. For contest and giveaway rules and a list of past contest winners click on Best Allergy Sites Giveaway.
_____________________________________________________________________________