When a company announces a recall, market withdrawal, or safety alert, we post the company's announcement as a public service. We do not endorse either the product or the company.
We flew Southwest Airlines for the first time last week. It was a family vacation, so my husband and I were traveling with our 2 young children, one of which has severe food allergies to peanuts, tree nuts, dairy and eggs. I had heard great things from friends that flew with Southwest in the past. The prices were competitive, and it's one of the few air carriers that still allow free checked baggage for domestic flights, so we decided to check it out.
Booking the flight was extremely easy, as was making arrangements for a passenger with peanut allergies. We booked directly through their website and were able to add the peanut dust allergy to my son's records upon booking with a simple check box. Every flight we added to that trip going forward had his peanut allergy listed as a default, and I didn't have to re-enter his disability.
It was once we got to the airport that I was "wowed" by the Southwest service and how understanding and accommodating all staff were about food allergies. Since the allergy was listed in his record, his boarding pass automatically came with a slip that gave us permission to board the plane early to wipe down the seats and make any preparations needed to ensure a safe flight. We also got an additional slip to give to the first flight attendant that we met when we boarded the plane to remind them not to serve any peanuts on the flight. All of this was automated through their system with a simple click of a check box. No reminders were necessary, no favors from kind employees were needed, as it was already built into their company culture and policies. Everything was done with a smile from every Southwest employee.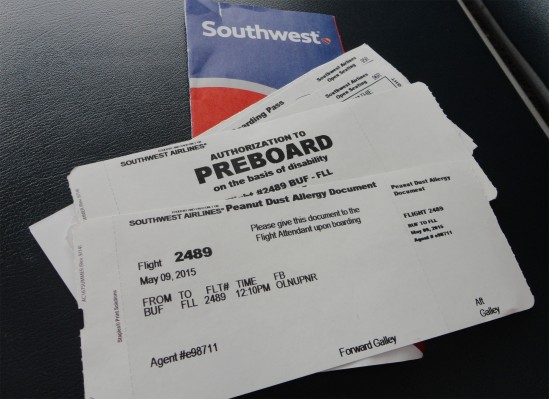 We flew Southwest Airlines two more times during this vacation and each experience was positive. We automatically received our slips for pre-boarding, peanuts were automatically removed from the flight snack plan and all staff went above and beyond to help out a family travelling with young children. I will definitely be choosing Southwest Airlines again.
Have you traveled with Southwest Airlines? How was your experience? Please share your thoughts in the comments below.