When a company announces a recall, market withdrawal, or safety alert, we post the company's announcement as a public service. We do not endorse either the product or the company.
Last month my family took a little vacation at the Great Wolf Lodge in Niagara Falls, Canada. Having three young children under the age of four, I really liked the fact that it was a convenient and easy one-stop vacation. We basically parked our car, checked in and had everything we needed in one facility, including a waterpark! As an added bonus, all rooms are equipped with a refrigerator and microwave, which is essential to us because of our special dietary requirements.
As a parent of a child with food allergies I've come to have pretty low expectations when it comes to eating out. In other words, I just expect that restaurants and buffets will not be able to make accommodations for a patron with a severe dairy, egg, wheat, peanut, tree nut and chicken allergy. It's a huge learning curve and if the kitchen and management is not comfortable enough to guarantee a safe meal, I don't take any risks.
I was pleasantly surprised when I saw a note from the Executive Chef Joe Treneer on Great Wolf Lodge website about allergy awareness:
"At Great Wolf Lodge, all our culinary teams are well versed in common food allergies and dietary restrictions. We are more than happy to accommodate your needs, and we encourage you to speak to your chef, so your meal can be prepared safely from the very beginning. Great Wolf Lodge does not use or serve peanut or tree nut products, but some of our products may be manufactured in facilities that also process nuts. If you'd like to discuss your dietary needs before your stay, please email us."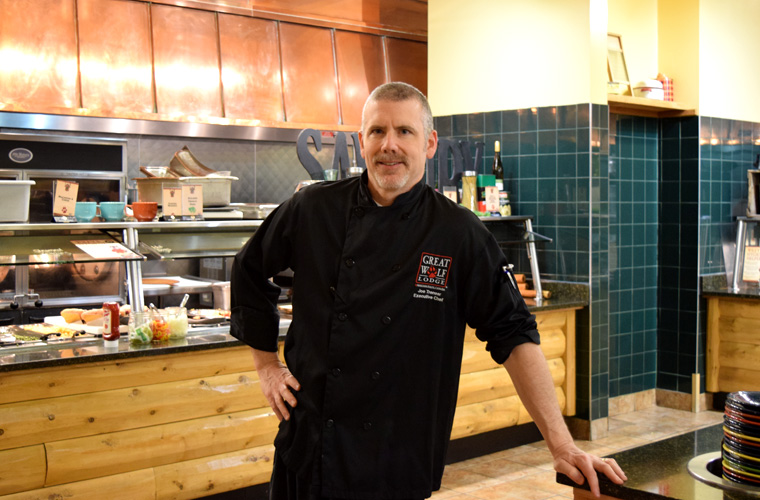 Executive Chef Joe Treneer in the Antler Shanty Buffet at Great Wolf Lodge, Niagara Falls
During my visit, I sat down with Executive Chef Joe Treneer to get a better understanding of how they could accommodate a person with multiple food allergies. Here are some excerpts from my interview:
What kind of accommodations does Great Wolf Lodge make for food allergies?
Generally what we do is the same process as on our website: let us know you're coming to see us and tell us what your allergies are and how we can accommodate them. We make different accommodations for different people, depending on what their needs are. For people with specific allergies, like shellfish, we will walk through the buffet and show them which foods they can safely eat. Someone with multiple food allergies, like your son, we'll walk around and show you what options are available this evening and ask you "what would you like?" And then from there it's new cutting boards, new utensils, new frying pans … We're going to start with unprocessed proteins, vegetables and starches, or whatever your son likes to eat, then I'm going to make a plate for him away from the other options.
How do you prevent cross-contamination?
It all starts from scratch. What we get in the door is unprocessed, fresh product. From there it's clean cutting boards, utensils, and cooking surfaces. For example, if you want pancakes for breakfast, our griddle cooks eggs and potatoes, so instead we will cook your pancakes on a brand new clean frying pan. We will cook them as we need them. Whatever I can roast in the oven, I generally do because I can put parchment down and guarantee a clean surface.
Is your entire staff trained to deal with food allergies?
Every correspondence we have states that you should ask to speak with a chef or a chef on duty, so that will be myself or one of my four sous-chefs and we're the only ones who will deal with allergies. If it's my shift on the floor, I'm going to be the one that comes to your table to greet you, take your order, and then I'll go to the back and cook the entire meal myself. I'm not going to pass it off to someone else to cook it, with the hope that they understand what I'm trying to tell them. I know what needs to be done because I was the one that talked to you. This way the transfer of information doesn't get skewed.
Do you have a dedicated fryer for your french fries?
No, we do not, but what we will do is put a pot of brand new canola oil in the back of the stove. We do it quite often. We don't have the space to have one dedicated fryer for fries and still be able to serve 900 dinners. It's a little bit of a wait, but if you advise us ahead of time, we can make sure the fries will be ready for you when you have dinner.
Is this a nut-free facility?
We don't use nuts in anything that we do. We've removed peanut butter from our property, but we don't call it a nut-free facility. There are a few things that are ordered from outside sources, that have no nuts listed, but we don't know what they do in their facilities, so I always recommend to anyone that is anaphylactic to nuts to avoid those items.
Our Meal
After my discussion with Chef Joe Treneer, I was convinced that the team at Great Wolf Lodge understood what needed to be done in order to serve a safe meal to someone with severe food allergies.
Chef Matt Marazzo  was on duty that night, and shortly after we were seated, he came out to chat with my son and asked him about his allergies and what kinds of food he liked. My son ordered beef, salmon, french fries and broccoli. It was cooked to perfection and delivered directly to him by the chef himself! For dessert, they served him a gluten-free, vegan cupcake.
Gluten-free options labeled at the buffet.
While walking around the buffet, I noticed that many of the dishes were identified as gluten-free or vegetarian, which made selecting my food very easy. All of the staff working in the kitchen and on the floor were happy to answer any questions about ingredients and cooking methodology.
Eating out safely with food allergies is possible when you have a culinary team that understands how to prepare a safe meal, and takes the appropriate time and effort to prevent cross-contamination.
Thank you Great Wolf Lodge for being a trail-blazing organization that just "gets it!"
Originally published on HypeFoodie.com