When a company announces a recall, market withdrawal, or safety alert, we post the company's announcement as a public service. We do not endorse either the product or the company.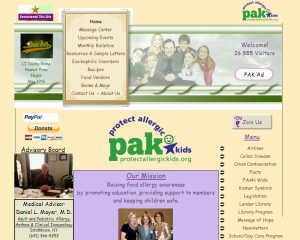 Website:
http://www.protectallergickids.com/index.html

Site Description:
Cristina Stainkamp and Alisha Coupe are the co-founders of Protect Allergic Kids (PAK), a non-profit organization for Food Allergies, Anaphylaxis and other allergic diseases like Eosinophilic Disorders and Celiacs. They were awarded the Mariel C. Furlong Award for Community Service.
At our group meetings, we like to build a network of support for parents and caregivers. PAK is available for presentations in Long Island, New York. We welcome visitors worldwide to participate in our Message Center. PAK is a registered 501(c)(3) nonprofit organization, and a registered charity with the State of New York.
Site Authors:
Cristina Stainkamp and PAK Advisory Board
City/Location:
Holbrook
State/Province:
New York
Country:
USA