When a company announces a recall, market withdrawal, or safety alert, we post the company's announcement as a public service. We do not endorse either the product or the company.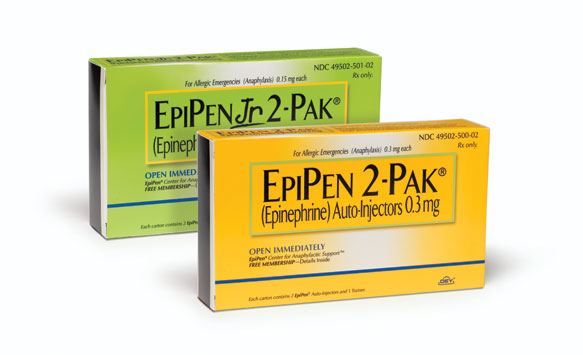 We posted back in 2013 about the Free EpiPen with $0 Copay Card. It was a great opportunity to get an EpiPen at little to no cost.
Mylan Specialty recently announced that they have extended the offer through December31, 2014.
Following is the information we received from Mylan Specialty:
Key details:
The "$0 Co-Pay Offer" is valid for up to three EpiPen 2-Pak(r)
cartons or EpiPen Jr 2-Pak(r) cartons per prescription, and it can be
used as many times as needed through December 31, 2014.
According to the food allergy guidelines developed by the
National Institute of Allergy and Infectious Diseases, immediate access
to two epinephrine auto-injectors is critical. The "$0 Co-Pay Offer"
encourages preparedness everywhere, at home, at school or on the go.
This co-pay offer is available to both cash-paying and
commercially insured patients. Certain restrictions apply.*
The offer, along with more information regarding terms and
eligibility, is available for download at EpiPen.com
EpiPen Auto-Injector continues to have 97% Tier 2 and
Preferred Brand Commercial coverage.
*This offer is not available to patients who are in Medicare, Medicaid,
TRICARE, or any other federal or state health care plan. The card is not
transferable and the amount of the rebate cannot exceed the patient's
out-of-pocket expenses. Program expires 12/31/2014. Program managed by
PSKW, LLC on behalf of Mylan Specialty L.P. Product dispensed pursuant
to program rules and federal and state laws. Void where prohibited. The
parties reserve the right to amend or end this program at any time
without notice. This is not an insurance card.
Indications
EpiPen(r) (epinephrine) 0.3 mg and EpiPen Jr(r) (epinephrine) 0.15 mg
Auto-Injectors are for the emergency treatment of life-threatening
allergic reactions (anaphylaxis) caused by allergens, exercise, or
unknown triggers; and for people who are at increased risk for these
reactions. EpiPen and EpiPen Jr are intended for immediate self
administration as emergency supportive therapy only. Seek immediate
emergency medical treatment after use.
Important Safety Information
EpiPen Auto-Injectors contain a single dose of epinephrine, which you
inject into your outer thigh. DO NOT INJECT INTO YOUR VEIN, BUTTOCK,
FINGERS, TOES, HANDS OR FEET. In case of accidental injection, please
seek immediate medical treatment. Epinephrine should be used with
caution if you have heart disease or are taking certain medicines that
can cause heart-related (cardiac) symptoms.
Tell your doctor if you have certain medical conditions such as asthma,
depression, thyroid disease, Parkinson's disease, diabetes, high blood
pressure and heart disease, have any other medical conditions, are
pregnant or plan to become pregnant, or are breastfeeding or plan to
breastfeed. Be sure to also tell your doctor all the medicines you take,
especially medicines for asthma. If you have certain medical conditions,
or take certain medicines, your condition may get worse or you may have
longer lasting side effects when you take the EpiPen or EpiPen Jr Auto
Injector.
The most common side effects may include increase in heart rate,
stronger or irregular heartbeat, sweating, nausea and vomiting,
difficulty breathing, paleness, dizziness, weakness or shakiness,
headache, apprehension, nervousness or anxiety. These side effects
usually go away quickly, especially if you rest.
Talk to your healthcare professional to see if EpiPen or EpiPen Jr
Auto-Injector is right for you.
For EpiPen prescribing information please click on:
http://epipen.com/~/media/4365D3E1F3FF46598D3DFFB533C152AC.ashx
For EpiPen patient information please click on:
http://www.epipen.com/~/media/BBAC09E9BE9346A3B9C81EC175B7FD3E.ashx
You are encouraged to report negative side effects of prescription drugs to the FDA. Visit www.fda.gov/medwatch or call 1-800-FDA-1088.