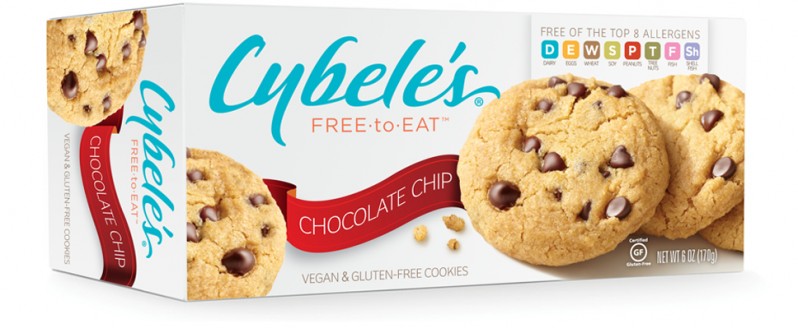 Cybele Pascal, allergy friendly cook and cookbook author, has recently launched a line of Vegan & Gluten Free Cookies called "Cybele's Free to Eat".
Cybele's Free to Eat are baked in a dedicated gluten free and allergy friendly facility and are certified gluten free and vegan. They are also free of the top 8 allergens including: peanut, tree nut, egg, dairy, soy, wheat, shellfish and fish.
For more information on Cybele and her cookies, visit her website at CybelePascal.com.
You can find Cybele's Free to Eat at the following locations:
| Store Name | Street Address | City | State | | Phone |
| --- | --- | --- | --- | --- | --- |
| Navan Foods: The Allergy Free Food Shop | Amazon.com Store | | | | |
| Angels Food Market | 396 N. Main | Angels Camp | CA | | 209-736-4243 |
| Sheri's Sonshine Nutrition Center | 6 N. School Street | Lodi | CA | | 209-368-4800 |
| Aha-Yes! LLC | 1931 Old Middlefield Way, Suite 202 | Mountain View | CA | | 650-641-0003 |
| Elliott's Natural Foods | 3347 El Camino Ave. | Sacramento | CA | | 916-481-3173 |
| Gluten Free Grocery | 234 Townsend Street | San Francisco | CA | | 415-626-3733 |
| Grassroots Natural Market | 1119 Fair Oaks Ave. | South Pasadena | CA | | 626-799-0156 |
| Sugar Free Market | 23164 Ventura Blvd. | Woodland Hills | CA | | 818-538-5181 |
| Whole Foods Market ROARING FORK | 340 Reed St. | BASALT | CO | | 970-927-1500 |
| Ideal Market ALPINE IDEAL | 1275 Alpine Ave. | BOULDER | CO | | 303-443-1354 |
| Whole Foods Market BASELINE | 2584 Baseline Rd | BOULDER | CO | | 303-499-7636 |
| Whole Foods Market PEARL | 2905 Pearl Street | BOULDER | CO | | 303-545-6611 |
| Whole Foods Market SOUTHGLENN | 6853 South York Street, Suite 119 | CENTENNIAL | CO | | 303-996-3660 |
| Whole Foods Market FIRST & MAIN | 3180 New Center Point | COLORADO SPRINGS | CO | | 719-622-1099 |
| Whole Foods Market PIKES PEAK | 7635 N Academy Blvd. | COLORADO SPRINGS | CO | | 719-531-9999 |
| Whole Foods Market CAPITOL HILL | 900 E. 11th Ave.. | DENVER | CO | | 303-832-7701 |
| Whole Foods Market CHERRY CREEK | 2375 East 1st Avenue | DENVER | CO | | 720-941-4100 |
| Whole Foods Market TAMARAC | 7400 E. Hampden Ave. | DENVER | CO | | 303-488-2000 |
| Whole Foods Market WASHINGTON PARK | 1111 S. Washington St. | DENVER | CO | | 303-733-6201 |
| Whole Foods Market FORT COLLINS | 2201 South College Avenue | FT. COLLINS | CO | | 970-267-9200 |
| Whole Foods Market COLORADO BLVD | 870 S. Colorado Blvd. | GLENDALE | CO | | 303-691-0101 |
| Whole Foods Market COLFAX | 14357 W. Colfax Ave.. | GOLDEN | CO | | 303-277-1339 |
| Whole Foods Market HIGHLANDS RANCH | 9366 South Colorado Blvd. | HIGHLANDS RANCH | CO | | 303-470-6003 |
| Whole Foods Market BELMAR | 444 S. Wadsworth Blvd. | LAKEWOOD | CO | | 303-935-5000 |
| Whole Foods Market GOVERNOR'S RANCH | 5155 S. Wadsworth Blvd. | LITTLETON | CO | | 303-586-5220 |
| Whole Foods Market SUPERIOR | 303 Marshall Rd | SUPERIOR | CO | | 720-274-1415 |
| Whole Foods Market WESTMINSTER | 9229 N. Sheridan Blvd.. | WESTMINSTER | CO | | 303-650-2333 |
| Whole Foods Market WEST DES MOINES | 4100 University Avenue | WEST DES MOINES | IA | | 515-343-2600 |
| Whole Foods Market LAKEVIEW | 3300 N. Ashland Ave. | CHICAGO | IL | | 773-244-4200 |
| Whole Foods Market LINCOLN PARK | 1550 N. Kingsbury Square | CHICAGO | IL | | 312-587-0648 |
| Whole Foods Market SAUGANASH | 6020 N. Cicero Avenue | CHICAGO | IL | | 773-205-1100 |
| Whole Foods Market SOUTHLOOP | 1101 S. Canal St. | CHICAGO | IL | | 312-435-4600 |
| Whole Foods Market DEERFIELD | 760 Waukegan Rd. | DEERFIELD | IL | | 847-444-1900 |
| Whole Foods Market SOUTH EVANSTON | 1111 Chicago Ave.. | EVANSTON | IL | | 847-475-9492 |
| Whole Foods Market DOWNTOWN EVANSTON | 1640 Chicago Ave.. | EVANSTON | IL | | 847-733-1600 |
| Whole Foods Market HINSDALE | 500 E. Ogden Ave.. | HINSDALE | IL | | 630-986-8500 |
| Whole Foods Market KILDEER | 20281 N. Rand Road | KILDEER | IL | | 847-726-4601 |
| Whole Foods Market NAPERVILLE | 2607 West 75th Street | NAPERVILLE | IL | | 630-579-7700 |
| Whole Foods Market NORTHBROOK | 840 Willow Rd. | NORTHBROOK | IL | | 847-205-5353 |
| Whole Foods ORLAND PARK | 15260 S. LaGrange Road | ORLAND PARK | IL | | 708-364-1350 |
| Whole Foods Market RIVERFOREST | 7245 W. Lake Street | RIVER FOREST | IL | | 708-366-1045 |
| Whole Foods Market SCHAUMBURG | 750 N. Martingale Rd | SCHAUMBURG | IL | | 847-585-5800 |
| Whole Foods Market WHEATON | 151 Rice Lake Square | WHEATON | IL | | 630-588-1500 |
| Whole Foods Market WILLOW BROOK | 201 W. 63rd Street | WILLOWBROOK | IL | | 630-655-5000 |
| Whole Foods Market GOLDCOAST | 30 W. Huron St. | CHICAGO | IL | | 312-932-9600 |
| Whole Foods Market HALSTED | 3640 N. Halsted St. | CHICAGO | IL | | 773-472-0400 |
| Whole Foods Market CARMEL | 14598 Clay Terrace Blvd. | CARMEL | IN | | 317-569-1517 |
| Whole Foods Market INDIANAPOLIS | 1300 E. 86th | INDIANAPOLIS | IN | | 317-706-0900 |
| Peanut Free Planet | 15252 Stony Creek Way, Ste #103 | Noblesville | IN | | 765-499-0154 |
| Whole Foods Market 119TH ST. | 6621 W. 119th St. | OVERLAND PARK | KS | | 913-663-2951 |
| Whole Foods Market METCALF | 7401 West 91st Street | OVERLAND PARK | KS | | 913-652-9633 |
| Whole Foods Market ANN ARBOR | 3135 Washtenaw Ave.. | ANN ARBOR | MI | | 734-975-4500 |
| Whole Foods Market CRANBROOK | 990 West Eisenhower Pkwy. | ANN ARBOR | MI | | 734-997-7500 |
| Whole Foods Market ROCHESTER HILLS | 2918 Walton Blvd. | ROCHESTER HILLS | MI | | 248-371-1400 |
| Whole Foods Market TROY | 2880 West Maple Rd. | TROY | MI | | 248-649-9600 |
| Whole Foods Market WEST BLOOMFIELD | 7350 Orchard Lake Rd. | WEST BLOOMFIELD | MI | | 248-538-4600 |
| Whole Foods Market EDINA | 7401 France Ave South | EDINA | MN | | 952-830-3500 |
| Whole Foods Market LAKE CALHOUN | 3060 Excelsior Blvd.. | MINNEAPOLIS | MN | | 612-927-8141 |
| Whole Foods Market MINNETONKA | 1001 Plymouth Road | MINNETONKA | MN | | 952-797-5600 |
| Whole Foods Market ST PAUL | 30 South Fairview Ave. | ST PAUL | MN | | 651-690-0197 |
| Whole Foods Market GALLERIA | 1601 S. Brentwood Blvd.. | ST LOUIS | MO | | 314-968-7744 |
| Whole Foods Market ST. LOUIS (TOWN & COUNTRY) | 1160 Town and Country Crossing | TOWN AND COUNTRY | MO | | 636-527-1160 |
| Whole Foods Market OMAHA | 10020 Regency Circle | OMAHA | NE | | 402-393-1200 |
| Hudson Greene Market | 77 Hudson Street | Jersey City | NJ | | 201-434-2080 |
| Whole Foods Market ACADEMY | 5815 Wyoming Boulevard, N.E. | ALBUQUERQUE | NM | | 505-856-0474 |
| Whole Foods Market INDIAN SCHOOL PLAZA | 2103 Carlisle Blvd.. NE | ALBUQUERQUE | NM | | 505-260-1366 |
| Whole Foods Market CERRILLOS | 753 Cerrillos Road | SANTA FE | NM | | 505-992-1700 |
| Whole Foods Market ST. FRANCIS | 1090 S. Saint Francis Dr. | SANTA FE | NM | | 505-983-5333 |
| Dean's Natural Foods | 911 Central Ave. | Albany | NY | | 518-489-5723 |
| | | | | | |
| Naturally Soergel's | 2573 Brandt School Rd. | Wexford | PA | | 412-585-2226 |
| Whole Foods Market COTTONWOOD HEIGHTS | 6930 S. Highland Drive | COTTONWOOD HEIGHTS | UT | | 801-733-9455 |
| Whole Foods Market PARK CITY | 1748 West Redstone Center Dr. | PARK CITY | UT | | 435-575-0200 |
| Whole Foods Market SUGAR HOUSE | 1131 E. Wilmington Ave. | SALT LAKE CITY | UT | | 801-359-7913 |
| Whole Foods Market TROLLEY SQUARE | 544 South 700 East | SALT LAKE CITY | UT | | 801-924-9060 |
| Whole Foods Market MADISON | 3313 University Avenue | MADISON | WI | | 608-233-9566 |
| Whole Foods Market MILWAUKEE | 2305 N. Prospect Ave.. | MILWAUKEE | WI | | 414-223-1500 |
| Big Hollow Food Coop | 119 S. 1st Street | Laramie | WY | | 307-745-3586 |