When a company announces a recall, market withdrawal, or safety alert, we post the company's announcement as a public service. We do not endorse either the product or the company.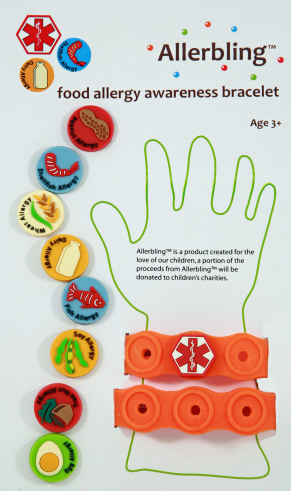 A unique new bracelet has come to the food allergy community that we think will be a huge hit with the pre-k through 2nd grade age group.
Allerbling launched this week, introducing a colorful and "fun" way  for kids to share their allergies. These latex free rubber bracelets are simple to use and make life with food allergies a little bit easier on kids.
Each of the 8 top allergens is represented by an illustrative charm that snaps onto the bracelet. This makes the bracelets customizable according to each individuals allergy. The charms also include the allergy written out in simple black print.
Bracelets come in two sizes and can be bought as a kit or individually. Charms can also be purchased individually. Because the charms are considered a choking hazard, these bracelets are not considered safe for children under the age of 3. Allerbling is currently working on a product for younger children.
We received two bracelet kits in the mail from Allerbling to try out. Our 7 year old son was hesitant at first since he's generally shy about his allergies. With a little prodding, he checked the charms out and picked the correct ones according to his own allergies. (Peanut, tree nut, egg, soy, and the red medical alert charm.) The smaller bracelet was too snug for him so we moved up to the larger size that fit just right. (Kudos to Allerbling for including two sized bands in each kit!)
Once the bracelet was on he didn't seem to mind. It didn't bother him and stayed in place. He was currently wearing a metal bracelet that would often turn on his wrist. His brother (who doesn't  have any allergies) found the bracelet and charms "cool".
I personally like that the bracelet is tough–it withstands bumps, water and boy playtime with ease. I also love that that illustrations clearly and brightly show his allergens. A definite step up from a simple engraved metal bracelet.
Given the Jibitz (for Crocs) and Sillybandz bracelet craze, I think any food allergy kid would love to have and wear one of these.
A lucky Best Allergy Sites reader just might get that chance. Our July giveaway is for one Allerbling Food Allergy Bracelet Kit. Come back soon and check out our Giveaway section for more information.
If you'd like to purchase your own bracelet, click on Allerbling for more information and to purchase.
_______________________________________________________________________________
Best Allergy Sites makes every effort to test and review products fairly and transparently. The views expressed in this review are the personal views of Best Allergy Sites and this particular product review was not sponsored or paid for in any way by the manufacturer. However, the manufacturer did give us the product for testing and review purposes.