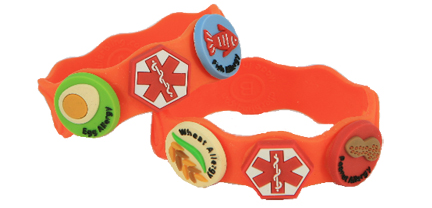 Allerbling officially launched their new company, website and unique allergy bracelet this week.
A cross between a medical alert bracelet and a funky charm bracelet; this product is sure to be a hit with young allergy sufferers. The bracelets are colorful, customizable, waterproof and latex free. They are available in two sizes in a complete pack, or can be purchased individually according to the allergies you are dealing with. The charms simply snap in and out of the bracelet.
Each charm features a colorful illustration of the allergen as well as the allergy name in black print. The charms are considered a choking hazard, therefore these bracelets are designed for those ages 3 and up. Allerbling is currently working on a similar product for children under the age of 3.
For more information or to purchase, visit the company website by clicking on Allerbling.