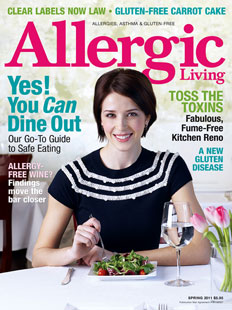 Allergic Living Magazine recently announced the launch of a US edition. Primarily a Canadian magazine with subscribers in the United States, Allergic Living has opted for both a Canadian and US version to cover allergy and asthma issues relevant to those living in Canada and the United States.
While many features and stories will remain the same, some content will be targeted towards each specific magazine.
From Allergic Living Magazine:
"It's been years in the making and it's finally here: Allergic Living, the indispensable resource on allergies, asthma and celiac disease, is unveiling its big, brand new U.S. edition this April. The new magazine and our popular Canadian edition have some key articles in common, but there are also exclusive features, columns and product reviews researched and written specifically for American readers."
If you are in the US, you can subscribe to the US version of Allergic Living Magazine by clicking on Allergic Living Magazine US Subscription.
If you are in Canada, click on Allergic Living Magazine Canada Subscription.