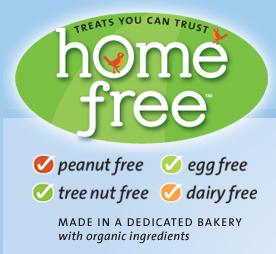 HomeFree founder Jill Robbins is scheduled to speak at the Nashoba Valley Asthma and Allergy Foundation of America New England Chapter's support group meeting on Tuesday March 29th at 7pm.
The topic is titled "Baking and Shopping Allergen Free."
"Learn how to bake delicious allergen-free treats everyone will love. Get an "insider's" view of food manufacturing to make your shopping easier. Bring your questions about ingredient labels, shared lines and facilities, and more."
The meeting will take place at the Nashoba Valley Medical Center, 200 Groton Road, Ayer, MA.
HomeFree makes allergy friendly cookies and coffee cakes in a dedicated facility free from peanuts, tree nuts, egg and dairy.
From the HomeFree website:
"As a mom, and a clinical psychologist, I realize how important it is for kids with food allergies to feel included at social occasions, where a sweet treat is often part of the fun. I created HomeFree™ bakery, with a line of delicious, wholesome cookies and cakes, as well as a cook book full of easy to make allergen-free recipes, so that people with food allergies and other special dietary needs can enjoy treats along with everyone else. Seeing the smiles on the faces of kids eating HomeFree cookies and cakes, you'll feel good knowing that these really are treats you can trust."