If you suffer from food allergies or have a child that does, you know how difficult traveling can be. Vacations are often planned around food allergies; at least in our house they are. There are just some places that are not safe for a multiple food allergic six year old.
So this winter we are planning our second trip to Walt Disney World. We went in 2006 and they were allergy friendly then, but boy have they stepped up their procedures.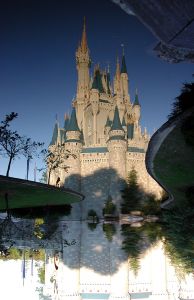 If you are planning a trip to Disney as well, here are some steps you can take to ensure you enjoy your meals reaction free:
1. Make any table service dining reservations by phone by calling 407-WDW-DINE or online at http://disneyworld.disney.go.com/dining/. When calling you can mention your food allergies then. When reserving online there is a section called Dietary Needs that you can click on. Here it will ask you what allergies or other medical conditions you have and whether you require special pre-order meals. (Keep in mind that special pre-order meals like Vegan or Gluten Free meals may have a cancellation fee attached to them for no shows). If you don't require a special meal you just check off the allergens you are dealing with.
2. Email specialdiets@disneyworld.com to let them know of your upcoming vacation and your food allergies. They will email you back with several attachments and additional information including the following link: http://disneyworld.disney.go.com/guest-services/special-dietary-requests/.
Attachments include:
Guest Dietary Letter: a welcome letter explaining their policies and protocols.
Food Allergy/Dietary reference sheet: lists the ingredients of several basic items like hot dogs, burgers, and chicken nuggets as well as locations that might be better options for those with dietary restrictions, and has a listing of allergy friendly products carried within the parks like Divvies and Enjoy Life.
Guest Letter Dietary Request Form: a form you fill out and email or fax back stating your names, allergens, any dining reservations you already have, and any additional information that needs to be relayed.
A Few Things to Keep in Mind:
Many restaurants accept reservations 90-180 days beforehand. If there is a restaurant you would like to go to, you must make your reservations early. Walk ins are typically not accepted at table service restaurants especially during peak season.
Disney does allow outside food into the parks. If you have any problems let them know of your food allergies and they will okay it.
Disney encourages guests to ask for a manager or chef at any table service or counter service restaurant to go over the menu and items. Things can change and this ensures you get the most up to date information.
Disney reminds you that you eat using your own judgment. While they go above and beyond to ensure food is safe via cooking and cleaning practices, they do serve thousands of people a day. Be sure to ask about ingredients, may contains statements, and ask that your dish be made in a clean pan.
Cast Members in Animal Kingdom often times carry peanuts to feed to the animals and birds therefore they may have peanut oil on their hands. (This stated in the above attachments from Disney).
Resources For More Information
Walt Disney World: The official Disney vacation site.
AllEars.net: Up to date information on all things Disney from accommodations, to dining, to parks information.
MouseSavers.com: If you want to save money on your trip this is the site. Here you will find the most recent codes for any Disney special offers as well as tips on how to save on accommodations, dining, tickets and more.
DisBoards.com: Message board for all things Disney. Here you can ask questions, chat with other Disney lovers and learn anything you need to know to plan your vacation.
WDWInfo.com: Parent site of the above message board. Another great site with tips and information on all things Disney.
The Unofficial Guide to Walt Disney World: This book is one we use and is truly a miracle worker. There are touring plans listed and if followed–will minimize your wait time in lines by hours. We used this on our Disney World 2006 trip, the Disneyland version on our 2008 trip, and just bought the 2010 version for our upcoming December trip. This trip will be the best test of the book's ability as we will be in Disney World during peak Christmas season.
Summary
Our trip in 2006 was fantastic (except for a reaction on the plane ride home which I'll save for another post). At every restaurant the chef came to our table before we could even ask. One even walked us through the Buffet at Crystal Palace restaurant to let us know what our son could and could not have.
With the increase in food allergies and the step up in the Disney policies, I expect this trip will be just as great.
If you've been to Disney and have an allergy story to share, tell us about it in the comments section below.