When a company announces a recall, market withdrawal, or safety alert, we post the company's announcement as a public service. We do not endorse either the product or the company.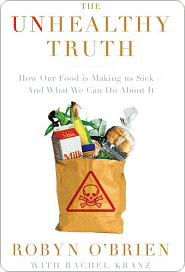 Robyn O'Brien shares what the US Food Industry is "really" like in her book "The Unhealthy Truth: How Our Food is Making Us Sick and What You Can Do About It". This book is a must read for any parent or person concerned for their health and the increase in chronic health conditions like asthma, food allergies, diabetes, cancer and more. Even those who think they have a healthy diet down to a science will learn something new.
Numerous studies have linked pesticides, chemicals and food additives to cancer, asthma, food allergies and even AD/HD and Autism. Why are these harmful chemicals still in (and on) our food and what can you do about it? Robyn O'Brien takes you step by step through what is wrong with our food and what you can do to make sure you and your family are not affected.
As a wife, mother and advocate; Robyn O'Brien has paved the way first for the food allergy community and now for all of us who need to learn "the truth". Robyn started AllergyKids.com shortly after several of her children were diagnosed with food allergies, over time her research and work led her to writing her book, she has now taken things a step further in launching the AllergyKids Foundation.
"The goal of the AllergyKids Foundation is to protect American families from the chemicals now found in our food supply."
For those who have ever thought that one person can't change the world, Robyn O'Brien is proof that hard work, determination, advocacy and truly believing in your cause does make a difference.
_______________________________________________________________________________
Best Allergy Sites makes every effort to test and review products fairly and transparently. The views expressed in this review are the personal views of Best Allergy Sites and this particular product review was not sponsored or paid for in any way by the manufacturer. However, the manufacturer did give us the product for testing and review purposes.