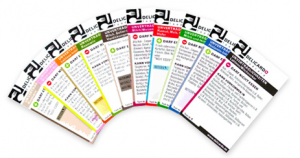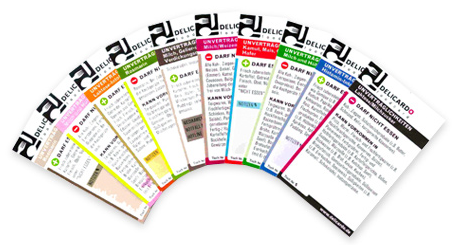 Have you ever received annoyed looks or felt embarrassed while you have been placing an order because of food allergies, intolerances or a restricted diet? Or have you ever been eating out at a restaurant and had to wait for what seemed an eternity because someone at the table wasn't able to eat most of the items on the menu? And have you ever had what was meant to be a great trip overseas turn into a culinary nightmare?
For any stories about such an experience you will receive free DELICARDO Foodcards!
Simply post your story on the Delicardo facebook group wall or discussion forum! Delicardo will then contact you and you will receive 5 standard DELICARDO Foodcards of your choosing out of their CATALOGUE.
Entrants who wish to stay anonymous or do not have a facebook account can also email their reports directly to info@enomis.de, just write "Facebook Giveaway" in the subject line. They will then post the story in the group themselves using only initials as identification.
Competition rules
•  Post your story on the group page "Eating Out: Allergies & Diets! Restaurant-Besuche: Allergien & Diäten!" (www.facebook.com/group.php?gid=340959892390) in the discussion forum or on the group's wall. It can also be emailed to info@enomis.de with the subject line "Facebook Giveaway".
•  Delicardo Foodie will then contact you via facebook or email if provided.
•  Tell them which standard DELICARDO Foodcards you would like to receive from their  catalogue (www.delicardo.de/eng/Foodcard/Katalog) and the address they should be delivered to.
•  They will send you the set of 5 Foodcards you have chosen
•  Entries close on June 6 at 6.10pm.
_______________________________________________________________________
This information was received from our friends at DELICLARDO Foodcards
and is not a BAS Giveaway. If you have a post or information you'd like to share,
email us at admin (at) bestallergysites (dot) com