When a company announces a recall, market withdrawal, or safety alert, we post the company's announcement as a public service. We do not endorse either the product or the company.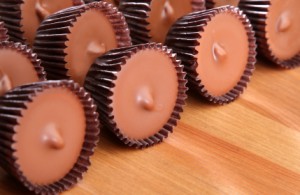 There was a time before food allergies where I was extremely addicted to that chocolate and peanut butter combination. Since our son's peanut allergies are so severe, we do not allow peanut products of any kind into our house. Not even peanut butter cups.
Then SunButter entered our lives and I've been making mock peanut butter cups ever since.
Following is a recipe that will definitely satisfy that chocolate and peanut butter craving.
Ingredients
2 cups sifted confectioners' sugar
1 1/2 cup smooth SunButter
1 pound chocolate (Enjoy Life makes a top 8 allergen free chip)
36 small paper candy cups (and mini muffin tin if you have one)
Instructions
Mix sugar and SunButter by hand, or with a mixer until well blended.
Melt chocolate in a double boiler or in the microwave
(heating in 10 second increments to avoid burning)
Using a small spoon, coat the inside of the paper cups with chocolate
and place in the freezer to harden
Drop a small dollop of the SunButter mixture into the hardened chocolate
Top with a little more chocolate and return to freezer until set
Eat immediately or keep tightly sealed in the freezer
These are great eaten alone, as a mix in for ice cream or in other recipes calling for peanut butter cups.