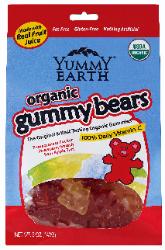 Halloween is made food allergy safe in our home by following a number of rules. One of these is no eating candy given until we return home and can sort through the loot.
Each year after the kids are tucked into bed, my husband and I sit down to start the tedious task of checking to make sure the candy is free from peanuts, tree nuts, eggs and sesame as well as being free from any "may contain" or other warning labels.
You can imagine the difficulty of the task given that many individual packs of candy don't have the ingredients listed or they are too small to read without a magnifying glass-which is why we have always have a stash of safe candy that is bought days and sometimes weeks in advance of the big day.
This year we were pleasantly surprised to find a few individual packs of Yummy Earth Gummy Bears sticking out among the Snickers, Peanut Butter Cups, and other nut laden candies.
While food allergies are on the rise, they still represent a small portion of children that Trick or Treat. Yummy Earth Gummy Bears are not only organic, chemical and dye free–but they are also free of peanuts, tree nuts, casein, egg, soy and wheat. They are safe for most food allergy sufferers, are vegan, certified organic and kosher parve.
We don't know who was kind enough to go out of the way to choose such a great candy but if you are out there and you are reading this–we send our sincere thanks for thinking of those with restricted diets. It was truly a great Halloween surprise.