When a company announces a recall, market withdrawal, or safety alert, we post the company's announcement as a public service. We do not endorse either the product or the company.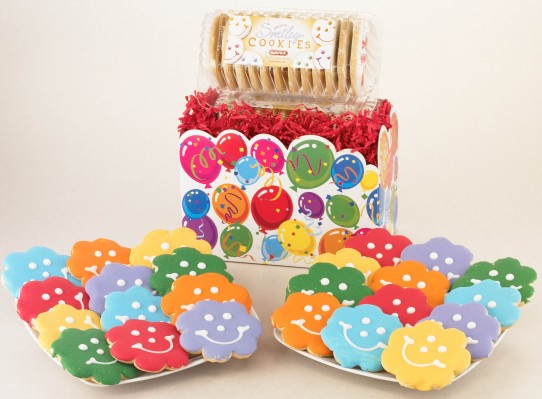 If you want to make someone happy, send them a SmileyCookie.
Makers of sugar cookies with a smile – literally – each cookie comes frosted with a happy face. They come in a variety of colors and shapes and can be pre-ordered for any holiday or occasion.
We recently received a dozen large, round and colorful cookies, from SmileyCookie.com, and brought them to a 4th of July fireworks celebration. The kids in our crew went crazy. Ranging in age from two to thirty something, each cookie was consumed in a flash. (The two year old took a little longer, licking off the icing before biting into the cookie.) Comments ranged from "mmmmmm", "yummmmm", to "these are good!"
The best part was that our eight year old food allergic son wasn't left out because these big gems are peanut and tree nut free made in a nut free bakery.
Now that's something to smile about!
Click on SmileyCookie to learn more and to order your very own.
_______________________________________________________________________________
Best Allergy Sites makes every effort to test and review products fairly and transparently. The views expressed in this review are the personal views of Best Allergy Sites and this particular product review was not sponsored or paid for in any way by the manufacturer. However, the manufacturer did give us the product for testing and review purposes.