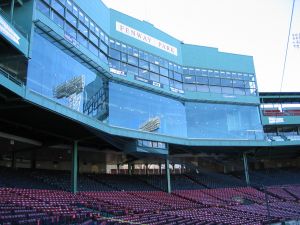 If have have a budding baseball fan with a peanut allergy and happen to live in the Boston area, you'll be excited to hear that this Saturday (July 10th) Fenway Park is reserving a section as peanut safe for a minor league double header game.
Tickets are only $10 each for both games and kids will get to participate in on field events! What a great way to spend a Saturday and introduce your children to baseball and historic Fenway Park.
The following information was provided by the Asthma Allergy Foundation of America New England Chapter. Be sure to visit their website for great information and support them by signing up as a member or making a donation.
Enjoy two games of Red Sox Minor League baseball but Major League FUN this Saturday, July 10.
Fenway Park is reserving a "peanut-allergy-friendly" section at its "Futures at Fenway" program.
The event will feature moderate ticket prices, discounted concessions, and a fun-filled, family atmosphere.
Children in attendance at "Futures at Fenway" will have the chance to take part in various activities throughout the day, including on-field promotions, autograph sessions with stars from both games, and a chance to be part of the action. Fans will even be able to play catch on Fenway Park's outfield after the second game.
Ticket prices: $10/per seat or $5/per standing room ticket
The "Futures at Fenway" Doubleheader includes:
Game 1– 12:05 p.m. ET
• Single-A Short Season affiliates
• Lowell Spinners (BOS) vs. Jamestown Jammers (FLA)
Game 2– After end of Game 1
• Single-A Advanced affiliates
• Salem Sox (BOS) vs. Potomac Nationals (WAS)
Some important information about the seating for this day:
* The "nut-allergy-friendly section" will be the RF Cumberland Farms Deck, a premium section with one of the best views of the ballpark. As with previous "peanut-allergy-friendly" days, they will take appropriate steps to ensure the area is secure and clean.
* Each ticket is valid for BOTH games
* Entrance point will be Gate B on corner of Van Ness street and Ipswich street from 11am-1pm for first game or both and 2-4 for Game 2
* Pick up tickets and drop off waivers at Gate B on day of game
For ticket reservations or if you have questions, call Michael Lawlor at 617-226-6027 or send him an e-mail at mlawlor@redsox.com.