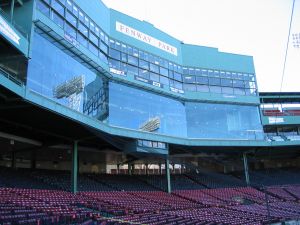 It's that time of year again. Time to purchase your tickets for summer baseball games. And if you act fast, you can reserve your very own seat in a peanut friendly section. (There is never a guarantee that it will be 100% free of peanuts.)
That's right! More and more teams are taking their peanut allergy patrons into account and are offering a peanut friendly section for select games.
One of the benefits of living in Massachusetts is historical Fenway Park. Of course I'm biased, but you haven't been to a ball game until you've been to Fenway.
This year the the Red Sox are currently offering peanut friendly sections in two games so far:
April 25 versus the Baltimore Orioles and September 19 versus the Toronto Blue Jays. These are both Sunday games scheduled for 1:35pm. There are both seats and standing room tickets available at this time.
In an effort to find the safest and most enjoyable area of the ballpark, they have decided again to use the Coca-Cola Left Field Pavilion. This is the same section the Sox used last year for peanut-allergy friendly games. This seating area is highlighted by its majestic view of the game and the city, as well as its proximity to the Green Monster. This section will ensure a comfortable visit to Fenway Park with many amenities close by in one of the more private areas of the ballpark.
Seats within this peanut-allergy friendly section cost $75 and SRO (Standing Room Only) costs $25.
Please contact Mike Lawlor at 617-226-6027 or mlawlor@redsox.com and leave a phone number where Mike can reach you and how many tickets you would like to reserve.
_____________________________________________________________________
The above information was provided by the Asthma Allergy Foundation of America
New England Chapter