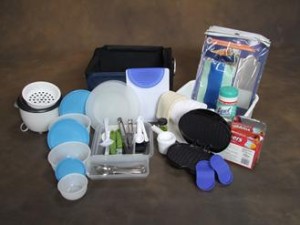 Nutrition for your Condition

Anaphylaxis…Food Allergic…Diabetic…Celiac
"Innovative products for dining out and travel"
Founded with the growing anaphylactic community in mind, Nutrition for your Condition offers products that facilitate safe dining out and travel options. Our products have been thoughtfully designed by a mother determined to show her peanut/ tree nut allergic son the world!
Our Carry-All Kitchen offers piece of mind and expands travel destination options for those restricted by food allergies. This 85 piece kitchen kit allows full meal preparation…just add water and electricity. This portable kitchen is light weight, compact and allows travel virtually anywhere!!!
To compliment our Carry-All Kitchen we have designed The Meal Mate which allows for convenient transport of prepared meals. Our insulated food jar is excellent for turning par cooked foods into delicious slow cooked meals.
Our Pack, Snack & Go is the ideal solution for play dates, road trips, sporting events, amusement parks and birthday parties. This stylish snack organizer carries everything required to help keep your child safe, including a separate compartment for an Epi-pen.
Nutrition for your Condition is committed to the on-going development of products that enhance, educate and facilitate life experience for those that feel bound by food allergies. For further details on our company and our expanding product line please visit us at www.nutritionforyourcondition.com.
____________________________________________________________________________
Post provided by Nutrition for your Condition. Do you have a new website or product to share?
Email and let us know at admin (at) bestallergysites (dot) com