When a company announces a recall, market withdrawal, or safety alert, we post the company's announcement as a public service. We do not endorse either the product or the company.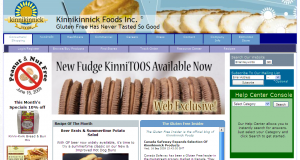 Website:
http://consumer.kinnikinnick.com/index.cfm/fuseaction/consumer.home.html

Site Description:
Mission Statement: "To provide Celiacs, people with Autism and other people with special dietary requirements with an uncontaminated, risk free source of food products. To provide our customers with food that actually looks and tastes Great"
Kinnikinnick Products are produced in dedicated Gluten/Wheat/Nut free facilities that use Soy, Eggs and Sesame Seeds.
City/Location:
Edmonton
State/Province:
Alberta
Zip/Postal Code:
T5h 3P7
Country:
Canada
Phone Number:
780-732-7527