What would you do if a child was having an allergic reaction, needed epinephrine, but was so afraid of the needle that they were physically defensive?
Here are some techniques, demonstrated by emergency department staff, that can be used to restrain a young child who needs an epinephrine auto-injector shot but might not be interested in cooperating.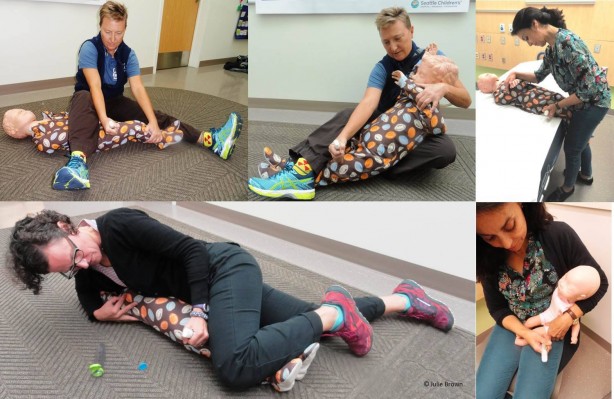 Photo Source: Julie Brown
The idea is to safely restrain the child and prevent them from moving long enough so that you can use the epinephrine auto-injector on their thigh.
Disclaimer: The contents of BestAllergySites.com are for informational purposes only. The Content is not intended to be a substitute for professional medical advice, diagnosis, or treatment. Always seek the advice of your physician or other qualified health provider with any questions you may have regarding a medical condition. Never disregard professional medical advice or delay in seeking it because of something you have read on BestAllergySites.com! If you think you may have a medical emergency, call your doctor or 911 immediately. Reliance on any information provided by BestAllergySites.com is solely at your own risk.