When a company announces a recall, market withdrawal, or safety alert, we post the company's announcement as a public service. We do not endorse either the product or the company.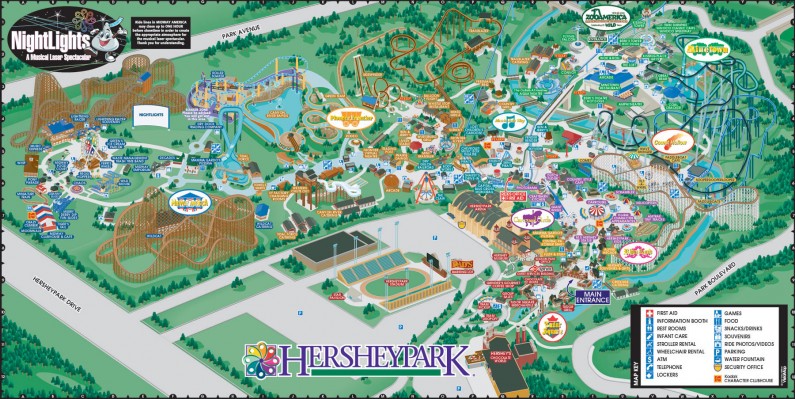 We just returned from a fantastic trip to Hersheypark and I wanted to give everyone an update on how to deal with Hersheypark and food allergies.
First let me preface this post by saying that it is possible to enjoy Hersheypark if you or your child has a food allergy.
Hersheypark is no different from any other amusement park you might attend. There are food vendors and restaurants within the park. However, contrary to what you may have read elsewhere, the park does not hand out candy at or after each ride. That being said, there are precautions you may want to take just as you would with other venues.
Food
Hersheypark does not allow outside food or drink within the park. (Aside from one sealed bottle of water per person.) They do allow picnics and have picnic areas just outside the park. There are also lockers should you need to store your bags or a cooler.
I've been told that if you email hersheyparkallergens@hersheypa.com and explain your situation, you may be able to get a letter permitting you to bring food into the park.
Visit the Hersheypark Website
Since there are several food vendors within Hersheypark, the Hersheypark website is a great resource for learning about how the park manages food allergies. There is an allergens FAQ page as well as links to the various food vendors within the park.
Each food vendor is listed. If you follow the link to a particular food vendor, you will see a list of what they serve as well as the ingredients used and allergens within each product.
From the Hersheypark FAQ page:
How do I purchase an allergen free meal?
When you visit a concession that offers menu items free of a specific allergen, be sure to indicate to our staff that you will need your item to be allergen free. Our staff will then take the time to carefully prepare your order.
Please note that our specialty items are made to order, so please allow ten minutes from the time your order is placed for preparation.
What steps do you take to avoid cross contamination during food preparation?
Our staff is trained to handle our allergen free food options with the utmost care. When an order is placed for a specialty item, our staff will wash their hands, put on new gloves, and use freshly cleaned and sanitized utensils designated specifically for our specialty items.
Hersheypark FAQ
http://www.hersheypark.com/food/allergens.php
Hersheypark Dining Options
http://www.hersheypark.com/food/food_locations/
Chocolate World is another attraction just outside of Hersheypark that I will cover in a separate post.