When a company announces a recall, market withdrawal, or safety alert, we post the company's announcement as a public service. We do not endorse either the product or the company.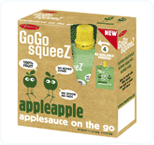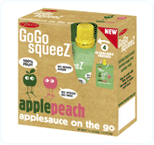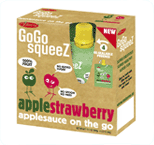 Apple sauce has been around for years and one wouldn't think it would be possible to reinvent it, but Materne has with GoGo Squeez Apple Sauce.
We saw these fun apple sauce pouches at the recent Natural Products Expo East and were thrilled to receive a variety pack in the mail. What makes them so great?
GoGo Squeez comes in individual, portable pouches with resealable caps. They are perfect for snacks, lunch boxes, day trips and camping. You can throw one in your purse, in the glove box of your car and best of all–no spoon is needed.
They come in multiple flavors, are made with 100% fruit (no sugar added) and are allergy friendly.
I received an email from the company with the following Allergen Statement attached. I was also told that none of the top 8 allergens are in the manufacturing facility.
How do they taste? You'll have to track down my kids to ask because they finished them before I could set one aside to try.
GoGo Squeez can be found on Amazon.com and in some grocery stores. Visit the Materne website to find a location near you.