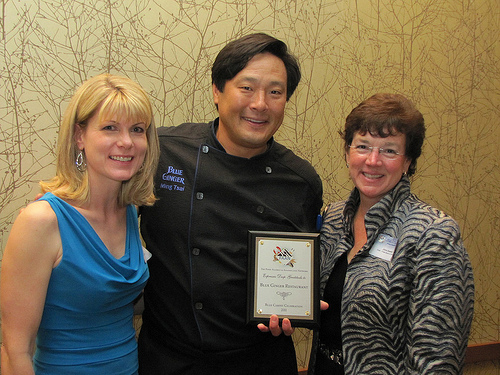 Photo Courtesy of FAAN
In honor of Food Allergy Awareness Week, the Food Allergy and Anaphylaxis Network (FAAN) held a Blue Carpet Dinner Celebration at Blue Ginger in Wellesley, Massachusetts on Wednesday May 11th.
The event was attended by representatives from FAAN, numerous well known allergists, food allergy advocates as well as many individuals living and dealing with food allergies.
The evening started with a cocktail hour and delicious hors d'oeuvres prepared by Chef Ming Tsai and his talented staff. On several occasions Chef Tsai dropped in to let particular food allergic guests know what food items were made especially for them.
Chair of the FAAN Board of Directors, Janet Atwater, welcomed guests and gave a brief speech at the start of a wonderful sit down dinner. She invited author Sloane Miller up as the first guest speaker to discuss her new book and her overall life theme of "living well with food allergies."
Followed by Sloane was  Erica Friedman, one of the 2011 Heart of FAAN Child Ambassadors. She gave a warm and well prepared speech on how honored she was to be selected and how her family, especially her twin brother who passes on peanuts even though he is not allergic, supports her.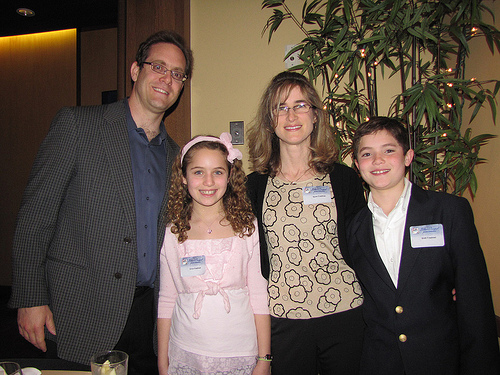 Photo Courtesy of FAAN
Massachusetts Senator Cynthia Creem discussed the passage of the Restaurant Food Allergy Awareness legislation and optimistically joked how she hoped that she would soon find herself sitting with Ming Tsai and President Obama to discuss implementing the food allergy bill in all states.
Chef Tsai gave an inspiring speech on the hard work and long years it took to pass the Massachusetts Food Allergy Restaurant Bill and how the bill is really "a no brainer." He stressed that all people should be able to eat safely in restaurants and that no one should ever be turned away due to a food allergy. His best analogy in educating kitchen staff about food allergies was comparing allergens to raw chicken on a cutting board.
"Everyone in the restaurant industry knows how to treat raw chicken juice," Tsai said. "You treat allergens the same."
He also showed the Blue Ginger Bible; a list of foods within the restaurant and which contain the top 8 allergens (peanuts, tree nuts, egg, dairy, fish, shellfish, wheat and soy).
Allergist Mike Pistiner was recognized for his involvement in the Massachusetts Food Allergy Bill and Dr. Wayne Shreffler, of Massachusetts General Hospital, gave a brief speech on current research updates and news of two new peanut allergy trials within the Boston area. The evening was capped off by coffee and Chef Tsai's famous chocolate cake.
While the food was wonderful and the company even better; the overall positive atmosphere and vibe of the entire evening was breathtaking and contagious. The Blue Carpet Celebration truly made for a memorable evening for the food allergy community.