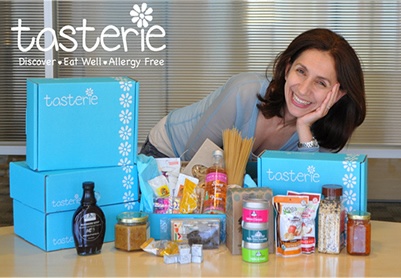 Tasterie, a new allergy friendly business, has been chosen as a potential receiver of a grant in the FEDEX Small Business Grant Contest.
Following is an excerpt from the grant submission:
"I started Tasterie, I'll be honest – mainly out of frustration. I was a pediatrician and a mom of a toddler, and a newborn that had multiple food allergies. It was simply too tiring to keep finding find food that I could introduce him to, or feed myself. The lack of allergy-safe and great tasting food products available is ridiculous! I remember standing in the aisles of supermarkets trying to read labels, sleep deprived, knowing there had to be an easier way.
The small business grant from FedEx would be an amazing opportunity to reach an even larger customer base and help more people. Right now, we're doing this all out of our own pocket and doing well, but we'd love to be able to expand and get our name and mission out there. Food allergies affect a staggering amount of people, in particular children, and there are enough hurdles to overcome without adding a restrictive diet to the list. The more funds we have available, the more we are able to help
A grant of this magnitude, or any magnitude, would be a huge asset. Right now, we are conducting customer service, fulfillment, storing, and everything else under one roof- it can be a little crazy around ship date, to say the least! But we love it, and we would love to see it grow and prosper while helping make the lives of people easier. We would have the freedom to hire more individuals and fundamentally, this money would help us to grow in all the ways that a new start up company needs to."
Click on Tasterie to cast your vote. The contest ends 11/24/2012.