Sometimes life gives you lemons and you make lemonade. Sometimes life gives you a rare disease and you learn to make the best of every situation by taking one step at a time, and sometimes taking a step backwards before you can go forwards. Abby is a fighter and often faces set backs most adults wouldn't be able to handle. Her head is always held high and she never gives up. She has taken what life has dealt her and now works hard to spread awareness. This past week she was rewarded with a rare moment most people in life will never have the pleasure of experiencing.
A month ago Abby wrote a letter to Chef Gordon Ramsay asking if he could make something only using foods she can eat. I shared it as asked by her on twitter, youtube, ellentube, and facebook. To our amazement Chef Gordon Ramsay responded to us by asking me to direct message him on Twitter. Abby was hoping for a recipe or perhaps a letter back. What we didn't expect was the hospitality of Chef Gordon Ramsay and the Master Chef staff.
Not only did they ask about Abby's condition, they cared. Abby was asked to come to LA and visit Chef Gordon Ramsay. Not only did she get to meet the sweetest man we have ever met, the chef and his staff took the time to learn what foods were safe for her, how to read labels, and what foods to avoid.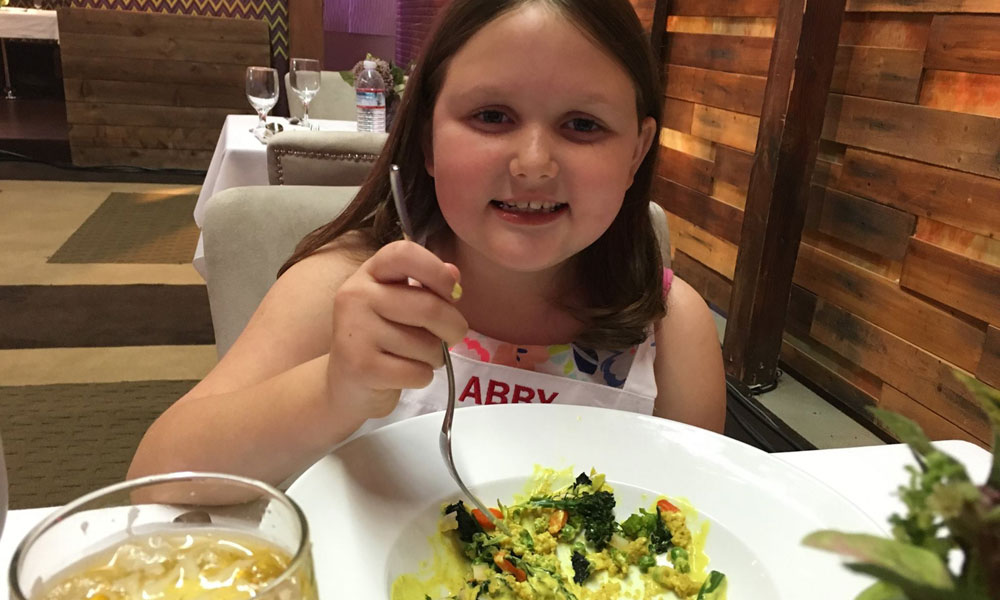 She dined with Chef Gordon Ramsay and ate food I can only describe as a heavenly phenomenon. In eight years I have never witnessed Abby eat so much in one sitting. That in itself was a miracle. She was treated like royalty. He even had a Master Chef apron made for her.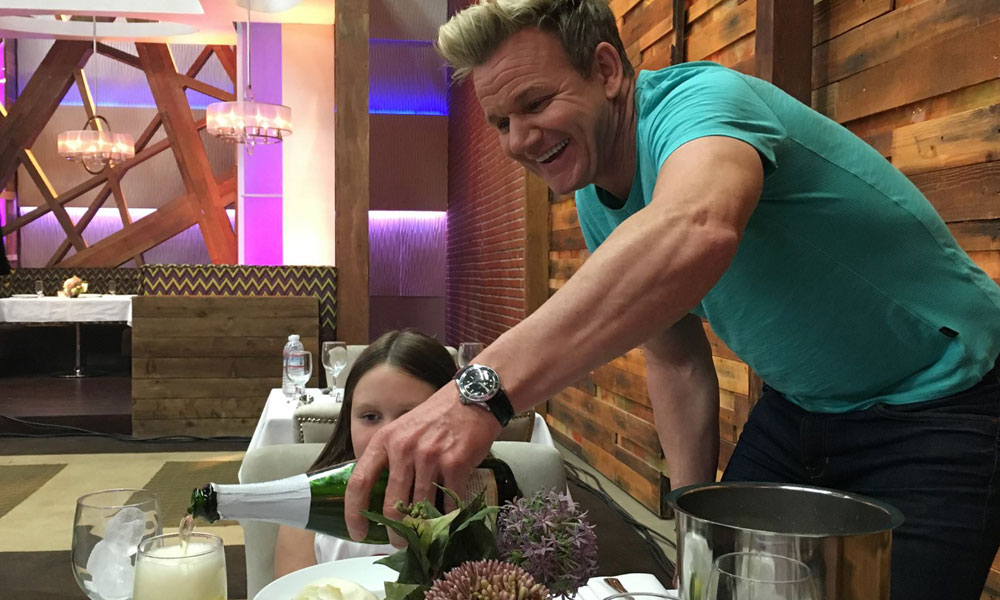 We spent our last full day in LA at Universal Studios Hollywood where we spent most of the day at Harry Potter World. This was a trip of a lifetime. She is still on cloud nine, I'm not sure if she will land on her feet anytime soon.
This couldn't have happened at a better time as she just recently had another failed food trial. For someone to take the time to learn what it's like to be in her shoes is a wonderful thing. But this…This trip was so much more than that. Words can never express the gratitude I have for Chef Gordon Ramsay, his assistant, and chefs in the Master Chef kitchen. This was a once in lifetime experience for Abby.
To Chef Gordon Ramsay,
Thank you for taking time to brighten her week, and most likely her year. Thank you for taking the time to hear her words. Thank you for everything.
From a mom who will always be eternally grateful,
-Amber
Guest Post Author: Amber Lacie
Abby was diagnosed with Eosinophilic Esophagitis in October 2010. Her body sends white blood cells (eosinophils) to attack her esophagus when it thinks a parasite is there. In most cases that "parasite" is the proteins from food. Abby currently takes medication on a daily basis to help control her EoE. She receives all of her daily nutrition from an amino-acid base formula which she receives through a feeding tube in her stomach. Abigail's only safe foods right now are oranges, blueberries, strawberries, peaches, carrots, and lemons. We are working with her doctors to help treat her eoe and better understand what she is going through. She has undergone several medical exams and procedures. She will have to continue with these treatments and procedures until there is better treatment or a cure for this disease.. Please help raise funds to help with better treatments or maybe find a CURE for this devastating disease. Imagine someone you know with this disease, wouldn't you want a cure? This is just Abby's story, but there are so many more out there suffering from Eosinophlic diseases.
Learn more about Eosinophilic Esophagitis and how you can help on Abby's EoE Battle.