When a company announces a recall, market withdrawal, or safety alert, we post the company's announcement as a public service. We do not endorse either the product or the company.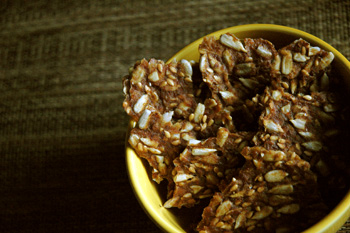 If you are looking for a granola bar alternative that is filling, sweet and slightly salty look no further than BAREbrittle.
"BAREbrittle is an organic energy snack that makes fueling your body as delicious as eating brittle candy. There are no preservatives, artificial ingredients or fillers – only excellent taste in a crunchy little package."
The best part of BAREbrittle is that each snack is vegan and made without gluten, soy, dairy, eggs and peanuts. They also do not contain any added sugars.
BAREbrittle comes in two varieties and is reasonably priced at $2.99 for a snack bag and $32.99 for a Snack Bag 12 Pack.
The Sunflower Flaxseed Brittle is made with organic dates, organic sunflower seeds, organic golden flaxseeds, organic raw agave powder and sea salt
The Spicy Lime Pepita Brittle is made with organic dates, organic pepitas, organic cayenne, organic lime juice, organic raw agave powder and sea salt
Founder Angela, a busy athlete, discovered she had food allergies to soy, gluten and eggs that then combined with an existing intolerance to dairy. Unable to find safe treats on the go, Angela started making brittle for herself, then for her friends and was encouraged to share her product with other food allergic individuals. We're glad that she did!
BAREbrittle can be found and ordered online at BAREbrittle.com
__________________________________________________________________________
Best Allergy Sites makes every effort to test and review products fairly and transparently. The views expressed in this review are the personal views of Best Allergy Sites and this particular product review was not sponsored or paid for in any way by the manufacturer. However, the manufacturer did give us the product for testing and review purposes.