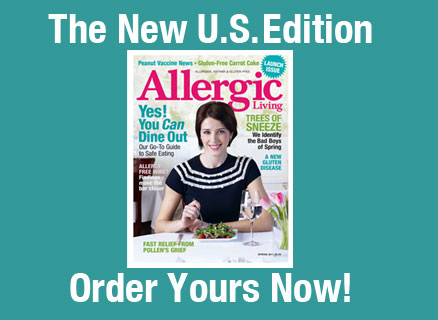 From our friends at Allergic Living magazine:
Allergic Living Hits the Mark on Food Bullying,
School Advice and Asthma Crisis
Allergic Living, the new U.S. magazine, is putting the finishing touches on its Fall issue that's filled with articles that hit home for those living with food allergies and asthma in the family.
There's a superb article on the rise of food-allergy bullying at school, with insights and helpful guidance from top experts including famed parenting and bullying guru Barbara Coloroso. The article delves into how to spot and how to prevent bullying. The cover article investigates the quiet crisis in asthma across America, with all the latest information about the magnitude of the disease (25 million Americans!) and efforts to try to change the lack of asthma control.
FAAN's president (and allergy mom) Maria Acebal writes on what every teacher should know about food allergies, and there's a candid essay by an allergic teen on what he did wrong when he started dating.
Gina Clowes offers up creative and, importantly, age-specific tips for making Halloween safe and loads of fun for kids, plus the magazine highlights the newest allergy-friendly Halloween candy.
Allergic Living's Chef Simon is known for his original, tested, allergy-friendly recipes. The Fall issue's theme is modern twists on autumn classics (braised chicken in apple cider with a side of sensational beet chips, anyone?). Plus, there's the latest in allergy news, medical research and more.
To Get Allergic Living: The magazine is available for purchase online, most affordably by subscription. If you sign up by noon on August 26 – at www.allergicliving.com/subscribe – you can make the cutoff to receive the Fall issue as part of a subscription. So don't delay!
Click on Allergic Living Cover to view the Fall 2011 cover.