When a company announces a recall, market withdrawal, or safety alert, we post the company's announcement as a public service. We do not endorse either the product or the company.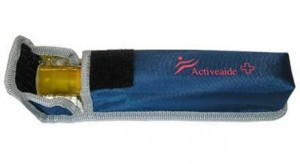 With life threatening food allergies comes the hassle of carrying an EpiPen at all times. While there are many ways to carry an EpiPen, several individuals have invented clever EpiPen carriers or holders.
Sylvia Sarris is the mother of a now grown food allergic daughter. In 2005 she teamed up with her brother Con and sister in law Dianne and founded Activeaide: manufacturer of auto injector pouches, EpiPen holders and other aides for anaphylaxis sufferers.
Diane was kind enough to send me several pouches that I have now been using for quite sometime.
One of the first things I like about the Activeaide pouches is the variety. You can purchase a single or a double and they come in several colors. There is a navy blue pouch for those wishing to blend in and a bright yellow and red pouch for those wanting their EpiPen to stand out. There is also an in between blue green color for the double size.
The pouches come with an attached key ring. You can also purchase a detachable belt to wear around your waist and a thick clear plastic identification tag with a blank card for filling out personal information. The pouches themselves open up to reveal a name and phone number tag.
The most interesting thing about these pouches is their construction. With input taken from hospitals, anaphylaxis sufferers and support groups; Activeaide decided to make their pouches with 3 layers of protection. There is a thermal silver inside layer, an inner shock absorbent foam layer and an attractive outer nylon like layer. Activeaide believes these 3 layers offer the best temperature protection.
We feel that these pouches/carriers are durable enough for the toughest of kids and adults. They are perfect for toting to the beach or on an adventurous hike, but can be used on a day to day basis as well. They are average on the beauty factor, but they aren't meant to be super stylish. They are, however, super functional.
Activeaide products can be purchased online at http://www.activeaide.com/
_______________________________________________________________________________
Best Allergy Sites makes every effort to test and review products fairly and transparently. The views expressed in this review are the personal views of Best Allergy Sites and this particular product review was not sponsored or paid for in any way by the manufacturer. However, the manufacturer did give us the product for testing and review purposes.