When a company announces a recall, market withdrawal, or safety alert, we post the company's announcement as a public service. We do not endorse either the product or the company.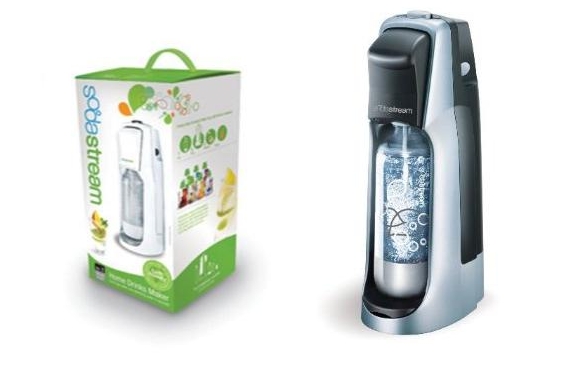 As some of you may already know, I am a member of BzzAgent and receive products and coupons, often for free and in return I express my thoughts, on these products, by Word of Mouth and also through sites like Facebook and Twitter. Today's Daily Bzz is for Sodastream.
I had never heard of Sodastream until a friend recently told me that she makes her own soda. I asked her how and she told me about Sodastream; a nifty device that turns plain tap water into carbonated water. Add some flavoring and you have yourself a refreshing bubbly drink.
From the Sodastream website:
"Making carbonated water and soft drinks is simple! Turn tap water into sparkling water in under 30 seconds, with no clean-up. Enjoy the freshness and convenience of homemade soda and protect the environment at the same time. No heavy bottles to carry, store at home or throw away. Fizz to your taste and add the flavor of your choice to make your favorite drink. Simple to clean and reuse. With a variety of colors and silhouettes, you'll be sure to find a soda maker to match with any decor."
What I love about this product is that it is environmentally friendly. No more plastic water or soda bottles. It is also battery and electricity free making it portable. Take it with you camping, on the boat, or to your summer house. Use it for parties and summer barbeques.
More importantly, Sodastream can be used to make healthier and allergy friendly drinks. Mix the carbonated water with a splash of fruit juice and you have a healthy and tasty treat. The kids will think it's soda.
Sodastream is highly rated on Amazon.com and reasonably priced. You'll quickly recoup the cost when you stop buying carbonated water and other carbonated beverages.
Click on Sodastream for more information or to purchase.
I haven't had a chance to try Sodastream for myself, but hope too be a part of this campaign so I can share my recipes and views with you.
If you like this product and would like to get involved in Daily Bzz Deals. Join me and other members at BzzAgent.
Don't Forget to LIKE Sodastream on Facebook!
Do you own a Sodastream? Share your thoughts and recipes in our comments section.
_____________________________________________________________________________________
Best Allergy Sites makes every effort to test and review products fairly and transparently. The views expressed in this review are the personal views of Best Allergy Sites and this particular product recommendation was not sponsored or paid for in any way by the manufacturer. However, this recommendation comes from our participation in the BzzAgent program.