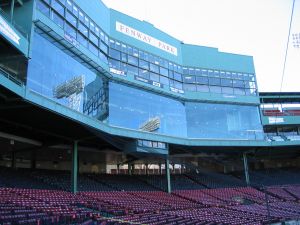 Following is information we received from the Red Sox Organization in regards to peanut friendly baseball games for 2013.
Overview:
Entering its ninth year in existence, the Boston Red Sox will welcome Peanut-Allergy fans to Fenway Park once again in 2013. In coordination with the Asthma and Allergy Foundation of America: New England chapter; the Red Sox make a concerted effort to assist all fans in their efforts to see Boston Red Sox Baseball at Fenway Park. Many of the changes to this season's Peanut Allergy Friendly Initiative were in response to the 2012 Peanut Allergy Survey.
(All game dates fall on a Saturday in favor of fan support from our 2013 Peanut Allergy Initiative Survey)
2013 Peanut Allergy Friendly Game Dates:
June 8th @ 7:15pm vs. LAA
July 20th @ 4:05pm vs. NYY,
August 3rd @ 7:10pm vs. ARI
Aug 31st @ 7:10pm vs. CWS
Sat. July 27th Futures at Fenway
Seating locations for the Baseball Beanpot and Futures at Fenway are still TBD
The Cumberland Farms Deck will be our main seating area for our 2013 Peanut Allergy Friendly games
Located on the Right Field Roof Terrace
This section consist of 70 seats and 100 standing room only seats
Price: $50 for a seat and $30 standing room only
Tickets are purchased in advance of the game date
Cumberland Farms Deck will be thoroughly cleaned and inspected prior to each game
Appropriate "Peanut-Allergy Friendly" signage will be posted at the site location
Families will receive tickets from ambassadors inside Gate B as soon as they turn in their waiver forms that are sent to them in advance
Ambassadors will assist directing fans up to Coke Deck starting 2 hours prior to first pitch and up until the start of the 2nd inning
Sales of any nut products are prohibited on or near the Right Field Terrace during the game
There is an extra security, EMS, and Ambassador presence in the Cumberland Farms Deck throughout the game to troubleshoot questions and be of assistance in case an emergency arises
Will Jones will remain the main contact for these families throughout the course of the day
What we provide:
Atmosphere – A safe and friendly environment welcoming our fans to Fenway Park
Tickets – Peanut Families pick up at Gate B for Cumberland Farms Deck anytime from the time gates open through the first inning
Waiver Forms – They are sent to the families in advance and must be signed to receive their tickets
Goody Bags – Each family will receive a goody bag when entering the ballpark
Scoreboard Message – Arranged in advance, there will be a scoreboard message saying: "The Boston Red Sox Welcome Our Peanut-Allergy Families to Fenway Park"
Wally the Green Monster visit – Arranged in advance, Wally will visit the or Cumberland Farms deck, for a half inning during the game
Customer Service – A combination of Fenway Ambassadors, Ushers, Security and Beth Israel EMS staff providing the best customer service possible
Booth F will be available one game per homestand for families whose children have extremely severe allergies. Additional opportunities may arise throughout the season.
Booth F:
Located on Media Level of Fenway Park
Tickets are available once per Homestand
Price: $55 per ticket and the booth can hold up to 6 people per game
Each family will be given a goody bag that includes the waivers that each individual must sign upon arriving at 4 Yawkey Way
It is the assigned ambassador's duty to ensure Booth F is clean of all nut products before bringing the family to the booth
The Fan Services calendar will provide contact info of the family attending each specific game as well as a time for the assigned ambassador to meet the family and escort them to Booth F
Families will meet an ambassador at 4 Yawkey Way at the convenience of the department prior to game time and be taken up the Booth F via the Front Office
For credentials, which act as their ticket please see Will Jones, Jovan Holland, or Nina Beltre
The ambassador will be the contact for this family for the duration of the game, please exchange contact numbers and remain accessible.
FAQ's:
1. Why must we sign waivers?
Waivers must be signed before attending a peanut allergy friendly game as
we cannot fully guarantee a peanut free environment.
2. Why are ticket prices so high for my family and I to attend a game?
The Coca – Cola Deck tickets were the most expensive at $75 per ticket based upon feedback we switched locations and the highest priced ticket is $50 for Cumberland Farm Deck tickets.
3. Are tours available for people with peanut allergies?
We will offer a peanut allergy friendly tour before every peanut allergy friendly game in 2013. More details will be provide closer to each date.
4. Why did I not receive any emails or updates about the peanut allergy friendly games?
Participants must notify Will Jones of an email or phone number changes for contact and information purposes. Email at peanutallergy@redsox.com
5. What is the reason for using only the Cumberland Farms Deck for peanut allergy friendly games? The Cumberland Farms Deck was voted on by the majority of participants who took the 2012 Peanut Allergy Friendly survey.
6. What time do gates open?
Gates open an hour ½ before game time.
7. My kids have a severe airborne peanut allergy how can we attend a game at Fenway Park?
For one game during each homestand we offer our fully enclosed Booth F as our peanut allergy friendly booth. Booth F is located on Fenway Park's 5th floor media level.
8. How do I know what foods are peanut allergy friendly at Fenway Park?
A list of ingredients for each food served at concessions will be emailed to each participant. There will be a concession stand nearby that will not carry any peanut products or use any peanut oils on the day of each peanut allergy friendly game.
9. Will there be more games this next year?
For the 2013 season we will have 6 peanut allergy friendly games with the addition of the Baseball Beanpot and the Futures @ Fenway game.
10. Why are there vendors who sell peanut products roaming the peanut allergy friendly area? Vendors will pass by the peanut allergy friendly section to visit fans in other seating locations.
11. Can I swap my tickets grandstand seats for peanut allergy friendly seats?
Situations such as these will be handled on a case by case Basis.
Notes:
Please note that Fenway Park is NOT Peanut Free. We prefer the term Peanut Allergy Friendly as we know there are fans who attend Fenway Park that will eat peanuts in other areas of the park.
After every game I will send out a survey in which I would like all participants to answer. This survey will help us gain knowledge on how to better improve your experience here at Fenway Park.
Please Contact Me throughout the season with updated emails and phone number changes. This is so that everyone stays in the loop and has a fair chance to purchase tickets to our peanut allergy friendly games.
For any suggestions, questions, or information on Peanut Allergy Friendly games please contact Will Jones at 617-226-6278 or email: peanutallergy@redsox.com