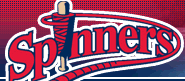 The Lowell Spinners, Class A Affiliate of the Boston Red Sox, have announced 3 peanut free baseball games for the 2010 season.
These are not peanut free sections, but games in which the sales of any and all products containing peanuts will be eliminated. To ensure that the stands are as safe as possible, the scheduled games are the first of each home stand round.
Tim Bawmann Vice President and General Manager said, "We power wash the facility following each of our games and events at LeLacheur Park."
The peanut free/safe games are scheduled for Thursday, July 8, Tuesday, August 10 and Saturday, August 28.
Individual tickets for the Spinners 2010 season are on sale now at www.lowellspinners.com, or through the Box Office, Monday-Friday, 10 a.m. – 4 p.m. Peanut Free Night Mini-Plans, including tickets to all three Peanut Free nights can be purchased by calling 978-459-1702.
The Boston Red Sox are also offering games with peanut free sections. More information can be found by clicking on Peanut Free Baseball.