When a company announces a recall, market withdrawal, or safety alert, we post the company's announcement as a public service. We do not endorse either the product or the company.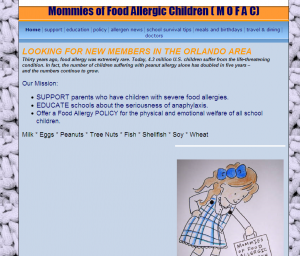 Website:
http://www.mommiesoffoodallergicchildren.com/

Site Description:
Our Mission
SUPPORT parents who have children with severe food allergies.
EDUCATE schools about the seriousness of anaphylaxis.
Offer a Food Allergy POLICY for the physical and emotional welfare of all school children.
THE ONLY FOOD ALLERGY SUPPORT GROUP IN CENTRAL FLORIDA
Site Categories:
Site Supporters, Allergy Support
City/Location:
Orlando
State/Province:
Florida
Country:
USA