When a company announces a recall, market withdrawal, or safety alert, we post the company's announcement as a public service. We do not endorse either the product or the company.
Site Supporter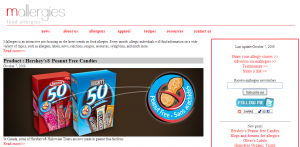 Website:
http://www.mallergies.com/index.html

Site Description:
Mallergies is an interactive site focusing on the latest trends in food allergies; allergic individuals will find information on a wide variety of topics : allergens, food labeling, news, reactions, recipes, resources, symptoms, and much more. Also, in order to meet the needs of children and infants who live with food allergies, we have created a line of apparel adorned with brightly coloured pictures representing various allergens.
City/Location:
Montreal
State/Province:
Quebec
Zip/Postal Code:
H2H 2E1
Country:
Canada
Phone Number:
1-514-564-1106


http://twitter.com/mallergies


Food Allergies