When a company announces a recall, market withdrawal, or safety alert, we post the company's announcement as a public service. We do not endorse either the product or the company.
As a young girl visiting India, I was curious and wanted to delve into the wide variety of regional cuisines native to India. However, with food allergies, all the exotic ingredients, unfamiliar dishes were both exciting and intimidating.
Together we did research and all votes went to Le Meridien, Windsor Place, New Delhi.
The Le Meridien WOW Story!!
My experience at the Le Meridien in New Delhi was very positive.
Their dynamic, creative, and dedicated team left no stone unturned in making it the best possible experience for me.
As always I had exchanged mail with the General Manager and the Executive Chef regarding my food allergies, beforehand.
At check-in we were told that the Executive Chef would come up to the room shortly, to discuss at length the specifics about allergy safe dining at Le Meridien.
I knew we were off to a great start.
Over the course of my stay, some things that he pointed out reflected how well versed he was in handling food allergies.
He said that he would personally cook all my meals while I was there. As an added precaution all the other team members in the kitchen would be briefed too.
In discussing the dinner options for the night, he said that the restaurant gets very busy on Saturday nights.
It was Saturday night and the main restaurant was very busy he recommended in room dining. The reason was to limit the possibility of a mix up while serving in the restaurant.
I enjoyed some authentic chicken and lamb dishes with an array of Indian breads, personally delivered by him.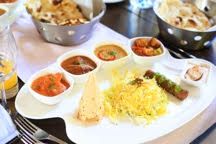 My bread was not served in a traditional bread basket. He pointed out that while the baskets are washed and sanitized each time, he did not want to risk any sort of residue from exotic breads with nuts and therefore my breads were served in a glass basket.
I was amazed at his insightfulness and creativity.
The magic of spices, the aroma of the exotic cuisine was nothing short of a scintillating food experience!!
For breakfast he invited us to the restaurant. I asked if he could make nut free chocolate chip and blueberry pancakes.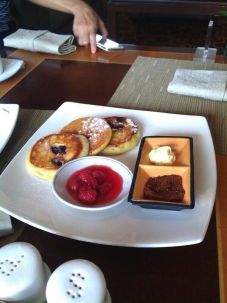 As we sat down to eat, he stopped by and rearranged my place setting. As a precaution, he removed my table mat, "just in case of any prior residue" he said.
He also removed the forks, knife etc. that were placed on the mat, and replaced them with new ones that he put on a plate.
These small gestures spoke volumes about his allergy awareness.
Just to reassure me that there were no nuts or possible contamination he showed us the label on the chocolate chips.
Small acts like this have such a huge impact on dining out with food allergies. I would have asked to check the label, but the spontaneity was what made me smile.
Peacock is the national bird of India…and there it was…majestic and beautiful coffee art on my cup of coffee.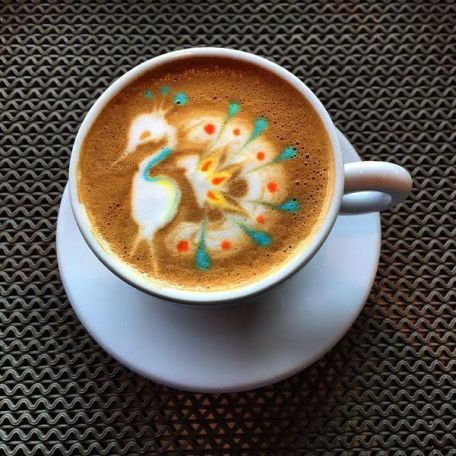 We were out for the rest of the day and returned late. I noticed a piece of cheesecake with a note next to it. It was Indian Independence Day and he had made for me a NUT FREE CHEESECAKE. Saffron, white and green are the colors of the Indian flag. The note read "We have made this NUT FREE cheesecake for you in celebration of the Indian Independence Day!"
This was the legendary Indian hospitality I had read about.
Disclaimer: As always, be sure to communicate your allergies to the restaurant staff to the extent that YOU are comfortable with the way they are handled. For guidance in this matter we recommend our App, AllergySmartz.
Originally published on FoodAllergyLowdown.
Photos: FoodAllergyLowdown.com