When a company announces a recall, market withdrawal, or safety alert, we post the company's announcement as a public service. We do not endorse either the product or the company.
My family had the pleasure of visiting Erin McKenna's Bakery in Downtown Disney last month. Every single item on the menu is gluten-free, wheat-free, soy-free, dairy-free and egg-free. It's mainly a pick up counter with no seating, so don't make plans to stay and eat dessert, but there are many benches outside so you can enjoy the lively Downtown Disney atmosphere.
My son has severe allergies to dairy, eggs, peanuts and tree nuts, with a sensitivity to gluten. Based on their banner statement, most of his allergens were covered, but I called in advance to ask more about the ingredients and whether or not they would be safe for people with tree nut and peanut allergies. I also called Bob's Red Mill to get more information on their facility and practices.
It's important to note that Erin McKenna's bakery does not claim to be tree nut-free as they use coconut oil as an ingredient in many of their baked goods. Also, their flour of choice is Bob's Red Mill, which also packages hazelnut and almond meal in their gluten free facility, but they use good manufacturing practices to prevent cross contact. Bob's Red Mill does not grind these flours, as stone grinding cannot produce flour and instead turns nuts into butters.
Erin McKenna's bakery does not use any peanuts in their products, but since they cannot make any assurances from the suppliers of all of their ingredients, they do not claim to be peanut-free.
The Bakery does not use soy, however Bob's Red Mill flours are processed on the same equipment as soy flour. All lines at Bob's Red Mill are cleaned between runs using air and 30 lbs of the new product is flushed through the system before packaging begins. Production is scheduled with allergens in mind so that cross contact is minimized.
After much consideration and research, we decided to allow my son to try a cupcake with our epinephrine close by. It was a lovely experience for everyone. He was able to pick out his own treat from the display window and enjoy it right in the store. It's the kind of thing that makes this allergy-mom's heart smile.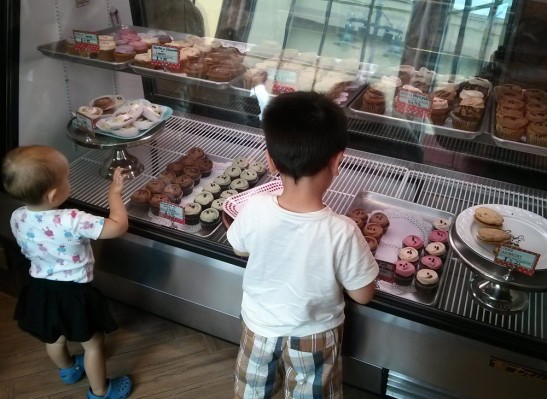 Picking out allergy-friendly treats at Erin McKenna's Bakery in Downtown Disney, Orlando, Florida
If you have severe food allergies, I recommend that you call the bakery in advance and talk to their staff, and follow your comfort level and instincts before consuming any goods. And most importantly, never eat anything without your epinephrine nearby.
Erin McKenna's bakery can also be found in New York City and Los Angeles. You can also get bakery items shipped directly to your home. Find out more information at https://www.erinmckennasbakery.com/