On September 8th, Enjoy Life Foods opened North America's largest allergy-friendly bakery which is Certified Gluten Free and dedicated nut-free in Jeffersonville, Indiana. Enjoy Life Foods is the leading brand in the growing Free-From category in the United States.
This new state-of-the-art facility boasts 200,000 square feet of modernized production capacity so that Enjoy Life can continue to produce high-quality baked free-from products, including cookies, snack bars, chocolate bars, baking chocolate, baking mixes, and savory snacks. All products made in the bakery are currently available in the U.S. as well as a number of global markets including Canada, South Africa, Israel, Mexico, and Singapore, and will soon launch throughout Asia and the EU. More than 100 employees from Jeffersonville and the surrounding local communities have already joined the growing team at the new bakery, and Enjoy Life plans to bring on 100 additional employees in 2017.
"With our new bakery, we have the opportunity to provide our many loyal fans with delicious free-from products they have come to know and love. Having the largest dedicated allergy-friendly* bakery in North America also allows us to further grow our operations to provide even more great-tasting products to families across the U.S. and Canada, while expanding our reach to people seeking allergy-friendly food options around the world."
-Joel Warady, Chief Marketing & Innovation Officer at Enjoy Life Foods
With the dramatic rise in food allergies in recent years, including 75 million people currently living with food allergies and intolerances,1 and approximately 25 million people who require gluten-free foods due to Celiac Disease or gluten avoidance, Enjoy Life Foods is well-positioned for significant growth with the opening of its new bakery. The new site will also help Enjoy Life expand its business operations and reach new heights, both in North America and beyond.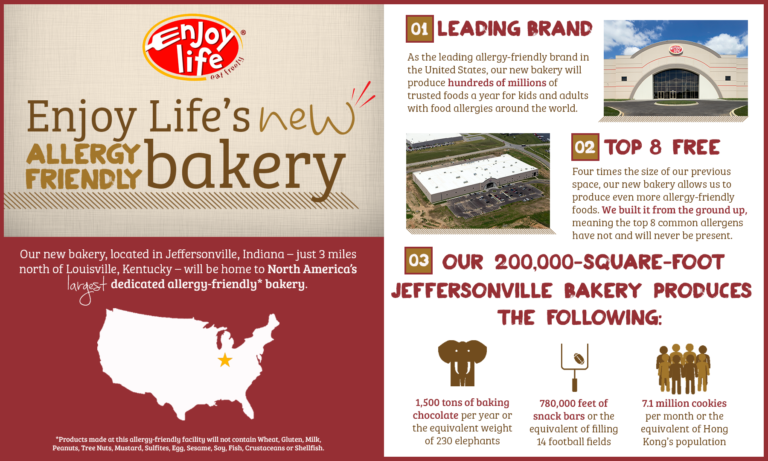 The aggressive Enjoy Life growth plans are supported by their parent company Mondelēz International since February 2015. As the world's leading snacking company, Mondelēz International is focused on becoming the leader in well-being snacks, with the goal of about half of its portfolio comprised of well-being choices by 2020.