When a company announces a recall, market withdrawal, or safety alert, we post the company's announcement as a public service. We do not endorse either the product or the company.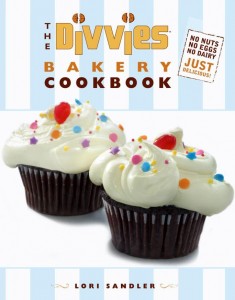 We've been a long time fan of Divvies cookies and are excited to announce the release of Lori Sandler's new cookbook, "The Divvies Bakery Cookbook: No Nuts, No Eggs, No Dairy – Just Delicious".
This beautiful cookbook is filled with over 70 delicious recipes that are sure to get you and your kids excited. From cupcakes, to cookies, to blondies and everything in between; this book is full of simple recipes requiring minimal ingredients. Most ingredients you probably already have on hand.
The front of the book has a "Before You Begin" section that outlines label reading, cross contamination and must have (allergy friendly) pantry ingredients. The list even explains what each ingredient does to make the end product come out so great.
The Divvies Bakery Cookbook is simple and easy to read with a beautiful center section of photographs highlighting many of the recipes. This is the perfect cookbook for those dealing with egg, dairy and nut allergies but can tolerate wheat. While many recipes can more than likely be adapted to those on gluten free diets; this book is for those of us who are more concerned about egg and dairy.
For more information or to purchase click on:
The Divvies Bakery Cookbook: No Nuts. No Eggs. No Dairy. Just Delicious!
For a sample recipe from the book click on Fudge Recipe.
__________________________________________________________________________
Best Allergy Sites makes every effort to test and review products fairly and transparently. The views expressed in this review are the personal views of Best Allergy Sites and this particular product review was not sponsored or paid for in any way by the manufacturer. However, the manufacturer did give us the product for testing and review purposes.