When a company announces a recall, market withdrawal, or safety alert, we post the company's announcement as a public service. We do not endorse either the product or the company.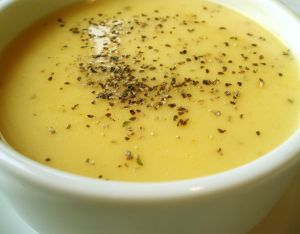 Here is a vegan corn chowder recipe that is creamy and dairy free. It's gluten free too!
Ingredients
2 teaspoons olive oil
2 cloves garlic chopped
1 medium onion chopped
5 medium potatoes peeled, rinsed and roughly chopped
2 cans of corn or 3 cups of frozen corn
Approx 32 ounces gluten free chicken or vegetable stock
Cracked black pepper and salt to taste
Optional add ins (Choose 1 or 2 for flavor boosting)
3 ounces chopped Canadian bacon
1-2 teaspoons red pepper flakes
1-2 cups of heavy cream or milk or dairy alternative
1-2 teaspoons chopped green onions (in individual bowls of soup)
dollop of sour cream (in individual bowls of soup)
Instructions
Heat a stock pot on medium heat and add olive oil, garlic and onions
When onions have softened, add potatoes to slightly brown
Add chicken or vegetable stock and simmer until potatoes are nearly soft
Add in corn and cook until all vegetables are soft
Remove from heat and blend half of soup in a blender
Return blended soup to stock pot and mix well
Add any optional additional mix ins except for sour cream and scallions
Return soup to heat until warm
Season with salt and pepper to taste
Ladle into individual bowls and add sour cream or scallions if using.
This is a great soup served with a crusty roll or piece of french bread and a salad.
Serves 4-6 generously.