When a company announces a recall, market withdrawal, or safety alert, we post the company's announcement as a public service. We do not endorse either the product or the company.
Site Supporter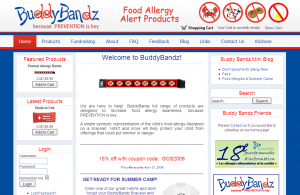 Website:
http://www.buddybandz.com

Site Description:
BuddyBandz full range of products are designed to increase food allergy awareness, because PREVENTION is key.
Our NEW and unique BANDZ are a proactive approach to raising awerness (unlike other bracelets, which you have to call a number on the back to find out more medical information), our bracelets are designed to stand out and have a universal repeated symbol which anyone of any language or age will understand.  There is no metal and they are hypoallergenic and waterproof!
Our long term goal is to open a food allergy summer camp so children with food allergies can have the same opportunity to enjoy summer as every other kid!
Site Categories:
Site Supporters, Products, Blogs
City/Location:
Sainte-Agathe-des-Monts
State/Province:
Quebec
Country:
Canada