When a company announces a recall, market withdrawal, or safety alert, we post the company's announcement as a public service. We do not endorse either the product or the company.
Editor's Pick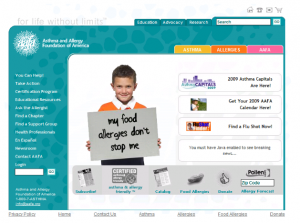 Website:
http://www.aafa.org/

Site Description:
The Asthma and Allergy Foundation of America (AAFA), a not-for-profit organization founded in 1953, is the leading patient organization for people with asthma and allergies, and the oldest asthma and allergy patient group in the world.
AAFA provides practical information, community based services and support to people through a network of Regional Chapters, Educational Support Groups and other Local Partners around the U.S. AAFA develops health education, organizes state and national advocacy efforts and funds research to find better treatments and cures. In addition, the mission of AAFA's Web site is to provide online access to AAFA's reliable, validated asthma and allergy information and tools to families, patients, parents, healthcare providers, policymakers and others.
City/Location:
Washington
State/Province:
District of Columbia
Country:
USA