When a company announces a recall, market withdrawal, or safety alert, we post the company's announcement as a public service. We do not endorse either the product or the company.
AllergySmartz is a FREE smartphone app that helps people overcome challenges while travelling with food allergies. The app will convey food allergies and precautions needed for safe food preparation to restaurant staff in foreign countries. The AllergySmartz app was created by high school student, Shirali Nigam, inspired by her own experience traveling outside of the United States.
The AllergySmartz app allows a user to identify their sensitivity to the top 12 allergens. The app then provides that information, along with safe food preparation instructions in any of 10 languages.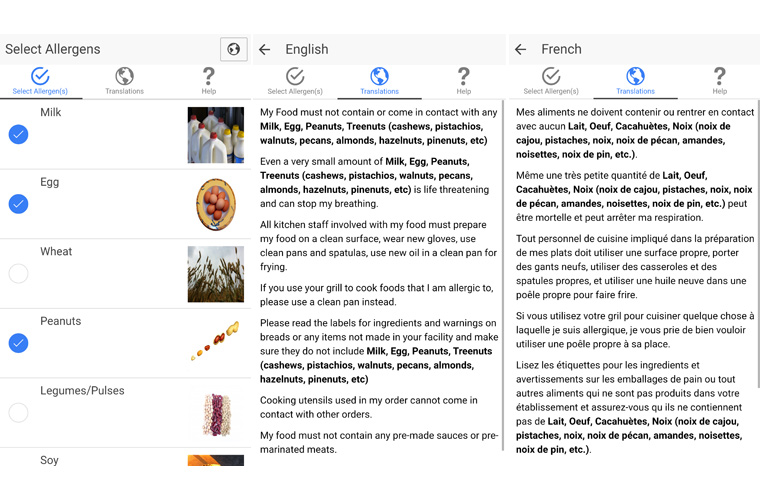 Dr. Robert Wood provided medical consultation for the development of AllergySmartz. Dr. Robert Wood is an internationally recognized expert in food allergy and childhood asthma. He is a professor of pediatrics and chief of Pediatric Allergy and Immunology at Johns Hopkins Hospital, and professor of International Health at the Johns Hopkins Bloomberg School of Public Health.
AllergySmartz Features:
1) Once downloaded, NO internet connection is needed to use the App.
2) 10 Languages available. (English, Spanish, French, Italian, German, Hindi, Arabic, Russian, Hungarian, and Bahasa Indonesian.)
3) Top 10 Allergens available. (Milk, Eggs, Wheat, Soy, Peanuts, Legumes, Tree Nuts, Fish, Crustacean Shellfish, Molluscan Shellfish, Sesame, and Mustard.)
4) English is not required to use the application. Select any of 10 languages and translate into another of the 10 languages!
5) Additional languages will be added. Expect new updates soon.
Download AllergySmartz for FREE on the Google Play Store or Apple iTunes.