When a company announces a recall, market withdrawal, or safety alert, we post the company's announcement as a public service. We do not endorse either the product or the company.
Editor's Pick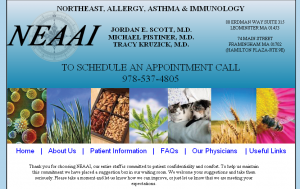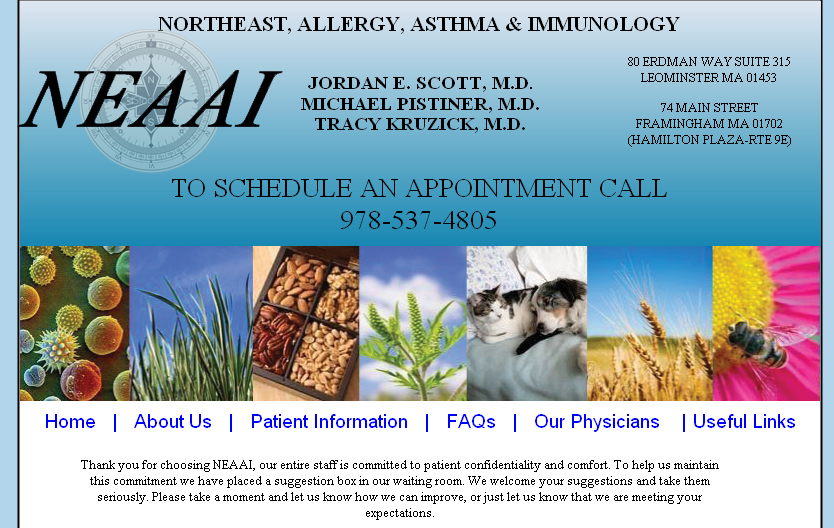 Website:
http://www.neaai.com
Description:
From the website: The office of Doctors Scott, Pistiner and Kruzick offers a wide range of services in allergy, asthma and immunology to meet our patient's needs. These include evaluation and treatment for environmental, food, insect and medication allergies, allergy immunotherapy, allergic skin disorders, and chronic sinus disease, helping children and adults with recurrent infections and difficult to control asthma, chronic cough and hives.
Jordan E. Scott, MD
Dr. Jordan Scott is a lifelong resident of Massachusetts. He graduated from Boston University Medical School in 2000. After completing a residency in pediatrics at UMASS/Memorial, he trained in allergy/immunology at Children's Hospital Boston with adult allergy training at Brigham and Women's Hospital. He continues to see patients at Children's Hospital Boston.
In July of 2006, just after completing his training, he acquired the allergy practice of Dr. Geraldine Feldman. In 2009, Dr. Scott hired Dr. Pistiner and Dr. Kruzick forming Northeast Allergy, Asthma and Immunology.
Michael Pistiner, MD
Dr. Michael Pistiner joined the practice in March 2009. He is on staff at Health Alliance Hospital as well as Children's Hospital Boston, Harvard Medical School. He recently completed his Allergy/Immunology fellowship at Children's Hospital Boston and completed his adult cross training at the Brigham and Women's Hospital, Harvard Medical School. During his fellowship training he earned his Master of Medical Sciences from Harvard Medical School's Scholars in Clinical Science Program. He is board certified in Allergy and Immunology as well as pediatrics.
Tracy Kruzick, MD
Tracy Kruzick, MD is a board certified allergist/immunologist and a board certified pediatrician. She graduated Phi Beta Kappa from the University of Colorado at Boulder and then from medical school at the University of Colorado Health Sciences Center. She completed her pediatric internship at The Children's Hospital of Denver and her pediatric residency at Children's National Medical Center in Washington DC. She completed her allergy/immunology fellowship at National Jewish Health, ranked for twelve consecutive years as the best respiratory hospital in the country by US News and World Report.
City/Location:
Leominster
State/Province:
Massachusetts
Zip/Postal Code:
01453
Country:
USA
Phone:
978-537-4805