When a company announces a recall, market withdrawal, or safety alert, we post the company's announcement as a public service. We do not endorse either the product or the company.
Editor's Pick
Site Supporter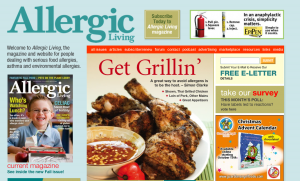 Website:
http://www.allergicliving.com/

Site Description:
Got an allergy or celiac question to discuss? Visit our supportive and friendly Forum. Allergic Living is the award-winning magazine for those living with serious food allergies, gluten intolerance and environmental allergies.
The magazine offers engaging, informative articles on topics including parenting allergic children, the latest medical research, and working, traveling and eating out with allergies. Every issue has new delicious, safe recipes, product reviews and outstanding advice from expert columnists. (See articles and excerpts on our site.)
The magazine is published in Canada, and serves a North America-wide audience with both U.S. and Canadian subscriptions.
City/Location:
Toronto
State/Province:
Ontario
Zip Code:
M6S 5A5
Country:
Canada
Phone Number:
1-888-771-7747


http://twitter.com/AllergicLiving