When a company announces a recall, market withdrawal, or safety alert, we post the company's announcement as a public service. We do not endorse either the product or the company.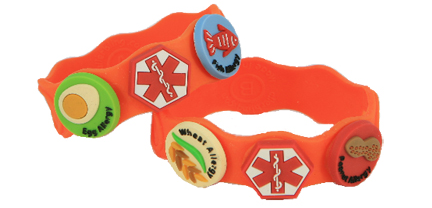 Our friends at Allerbling are offering a great deal for the month of February.
Enter code THKS to receive a 10% discount on your order.
In addition, you will receive a copy of our Ebook Food Allergies and School for free!
Visit Allerbling now to place your order.
Their bracelet would make a great Valentine's Day gift for your little one!
From the Allerbling website:
The Allerbling wristband is a unique medical ID bracelet, which is customizable by you, at any time, based on your child's changing food allergic conditions.
The best way to avoid food allergy emergencies is through awareness. As parents, we want our children to be safe. When your child is in school, on playdates, in summer camp, or just hanging out at the playground, Allerbling can be your silent partner that informs and reminds others about your children's food allergic condition.
Allerbling… raising awareness of children's food allergies…one wrist at a time.