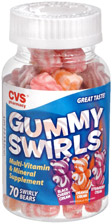 It's enough that the food allergic have to read each and every food label to avoid foods they are allergic to. Then there is the issue of cross contamination. However, food items are only one category allergic individuals need to consider.
Vitamins are a consumable product that parents of allergic children may fail to think about. Many contain dairy.
Luckily there are allergy friendly vitamins out there. CVS even has their own brand called Gummy Swirls.
From their website:
"Multi-vitamin and mineral supplement. Great taste! Black cherry cream, orange cream, strawberry cream. This product contains no wheat (gluten), milk, eggs, peanuts, tree nuts, soy or preservatives. The facility that makes this product also makes products that contain wheat (gluten) and milk using different equipment."
You can also find vitamins at several of the online allergy stores listed on Best Allergy Sites. One such store is the Allergy Free Shop.

Recalls
ALMOND, MILK, AND SOY ALLERGY ALERT November 19, 2009 Nassau Candy Distributors is recalling "Tasty Dish Snack Tub: Chocolate Almonds,"

Food Allergy News and Updates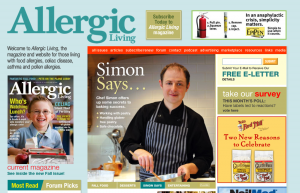 The holiday season will soon be upon us and what better way to celebrate than with a #foodallergy twitter party!

Food Allergy News and Updates
ALMOND ALLERGY ALERT
February 9, 2010
Turkey Hill Dairy is recalling packages of "Chocolate Marshmallow Premium Ice Cream" due to undeclared almonds.

Food Allergy Channel
Michael Pistiner talks to Fox News about his new book and what parents of food allergic kids can do to help them deal with their food allergies.

Food Allergy Coupons & Savings Tips


Looking for a gluten free bar? Try thinkThin with these thinkThin coupons.

Food Allergy News and Updates
On Monday December 13th, the show Chronicle will cover food allergies. Check your local listings to see if it's offered in your area.