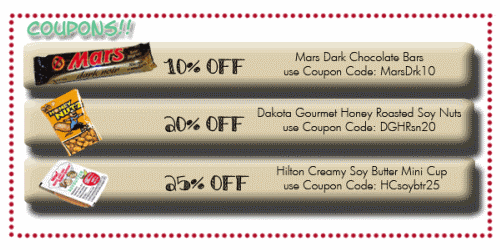 Looking for Peanut Free Planet Coupons? Our friends at Peanut Free Planet have some great deals, coupons and promotions going on through June 22nd. Click on Peanut Free Planet Coupons to view their Freeling Flyer newsletter.

Food Allergy News and Updates
by Jill Robbins Many of us know this experience all too well: A group of children is happily eating some

All Site Articles
Dealing with a soy allergy? How do you know if soy lecithin or other forms of soy are safe? Read more to find out.

All Site Articles
Winter allergies – is it more than just the cold snap making you sneeze? The approach of the colder months fills most of us with dread: coughs, colds, sneezes….

All Site Articles
A food allergy friend emailed me recently to tell me that she received a hit on her website from an interesting search.
The search was "Ruth Smith allergy complaining"

All Site Articles
It's almost back to school time and we've rounded up some of our favorite back to school snacks and lunches

Food Allergy Community Blog
Peanut allergic translations for travel. Learn how to say "I'm Allergic to peanuts" in 45 different languages from our latest guest blogger.